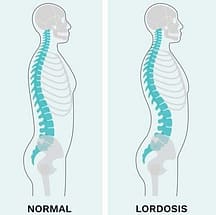 A normal spine curves a little in your neck, upper back, and lower back. These curves, which create your spine's S shape, are called the lordotic (neck and lower back) and kyphotic (upper back). They help your body:
absorb shock
support the weight of the head
align your head over your pelvis
stabilize and maintain its structure
move and bend flexibly
When your natural lordotic curve, which is normal – the curve arches too far inward, it's called lordosis or swayback. Lordosis can affect your lower back and neck. This bad posture can lead to excess pressure on your back, causing pain and discomfort. It can affect your ability to move if it's severe and left untreated.
Treatment of lordosis depends on how serious the curve is and how you got lordosis. There's little medical concern if your lower back curve reverses itself when you bend forward. You can probably manage your condition with physical therapy and daily exercises.
But you should see a doctor if the curve remains the same when you bend forward. Read on to find out what lordosis looks like and how your doctor will diagnose it.
What Causes Lordosis?
Lordosis can affect people of any age. Certain conditions and factors can increase your risk for lordosis. This includes:
Spondylolisthesis: Spondylolisthesis is a spinal condition in which one of the lower vertebras slips forward onto the bone below. It's usually treated with therapy or surgery.
Achondroplasia: Achondroplasia is one of the most common types of dwarfism.
Osteoporosis: Osteoporosis is a bone disease that causes a loss of bone density, which increases your risk of fractures.
Postural Lordosis: This is caused by uneven posture. Having overweight or weakness in the abdominal muscles can increase the risk, as both factors strain the lower back.
Prolonged sitting also develops lordosis postural which tightens the muscles in your back and weakens your abdominal muscles and glutes. In both cases, the core muscles that stabilize your back become weak.
What Are the Signs & Symptoms of Lordosis?
Depending on the location, lordosis can cause the buttocks and the stomach area to stick out. Due to the curve in their back, a person with lordosis may find it difficult to lie flat on the floor.
In many cases, lordosis alters a person's appearance but causes no symptoms. However, severe lordosis may cause:
back or neck pain
pain that radiates into the legs and feet, which medical experts call sciatica
tingling or numbness
What are the types of Lordosis?
Lordosis in the lower back
Lordosis in the lower back or lumbar spine inward curve is the most common type. The easiest way to check for this condition is to lie on your back on a flat surface. You see, someone with lordosis will have extra space between their back and the surface as compared to a neutral spine. If they have an extreme curve, there'll be a visible C-like arch when they stand. And from the side view, their abdomen and buttocks will stick out.
Cervical lordosis
In a healthy spine, your neck should look like a very wide C, with the curve pointing toward the back of your neck. Cervical lordosis is when your spine in the neck region doesn't curve as it normally should.
This can mean:
There's too much of a curve.
The curve is running in the wrong direction, also called reverse cervical lordosis.
The curve has moved to the right.
The curve has moved to the left
Lordosis in children
Without any cause or reason, lordosis appears in some children. This is called benign juvenile lordosis. It is because the muscles around your child's hips are weak or tightened up that was why the muscle adapted to the new posture. Benign juvenile lordosis typically corrects itself as your children grow up or also can correct with some spine yoga or exercises.
Lordosis can also be a sign of hip dislocation, especially if your child has been hit by a car or fallen somewhere.
Other conditions that can cause lordosis in children are normally related to the nervous system and muscle problems. These conditions are rare and include:
cerebral palsy
myelomeningocele, an inherited condition where the spinal cord sticks through a gap in the bones of the back
a muscular dystrophy is a group of inherited disorders that cause muscle weakness
spinal muscular atrophy, an inherited condition that causes involuntary movements
arthrogryposis, a problem that occurs at birth where the joints can't move as much as normal
Lordosis in pregnant women
Many pregnant women experience back pains and will show the signs of lordosis, a protruding belly, and buttocks. But according to Harvard Gaze, research shows that lordosis during pregnancy is actually your spine adjusting to realign your center of gravity.
Overall back pain may be due to altered blood flow in your body, and the pain will most likely go away after birth.
How is lordosis diagnosed?
Your doctor will look at your medical history, perform a physical exam, and ask about other symptoms to help determine if you have lordosis. During the physical exam, your doctor will ask you to bend forward and to the side. They're checking:
whether the curve is flexible or not
your range of motion
if your spine is aligned
if there're any abnormalities
They may also ask questions like:
When did you notice the excessive curve in your back?
Is the curve getting worse?
Is the curve changing shape?
Where are you feeling pain?
After narrowing down the possible causes, your doctor will order tests, including X-rays of your spine to look at the angle of your lordotic curve. Your doctor will determine if you have lordosis based on the angle in comparison to other factors like your height, age, and body mass.
How to treat lordosis
Most people with lordosis don't need any medical treatment unless it's a severe case. Treatment for lordosis will depend on how severe your curve is and the presence of other symptoms.
Treatment options include:
medication, to reduce pain and swelling
daily physical therapy, to strengthen muscles and range of motion
weight loss, to help posture
braces, in children and teens
surgery, in severe cases with neurological concerns
nutritional supplements such as vitamin D
Shop online for vitamin D supplements.
How to prevent lordosis
While there aren't guidelines on preventing lordosis, you can perform some exercises to maintain good posture and spine health. These exercises can be:
1. Cat-Cow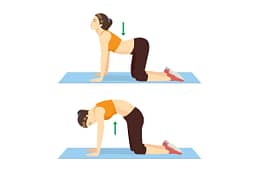 Start on your hands and knees with your wrists directly under your shoulders, and your knees directly under your hips. Point your fingertips to the top of your mat. Place your shins and knees hip-width apart. Center your head in a neutral position and soften your gaze downward.
Begin by moving into Cow Pose: Inhale as you drop your belly towards the mat. Lift your chin and chest, and gaze up toward the ceiling.
Broaden across your shoulder blades and draw your shoulders away from your ears.
Next, move into Cat Pose: As you exhale, draw your belly to your spine and round your back toward the ceiling. The pose should look like a cat stretching its back.
Release the crown of your head toward the floor, but don't force your chin to your chest.
Inhale, coming back into Cow Pose, and then exhale as you return to Cat Pose.
Repeat 5-20 times, and then rest by sitting back on your heels with your torso upright.
2. Hip Bridge
Lie on your back with your knees bent and raised, your feet flat on the floor, and your arms at your sides.
Keep your feet hip-distance apart and try to keep your leg in vertical alignment with your knee.
Flex your glutes and push through your heels to raise your hips upward. Try to make a diagonal line from your shoulders to your knees.
Hold for a short moment before lowering back down.
Repeat 10 times for 3 sets. 
You can also use these exercises to prevent lordosis:-
shoulder shrugs
neck side tilts
yoga poses, like Cat and Bridge pose
leg raises
pelvic tilt on a stability ball
Prolonged standing may also change the curve of your spine. According to one study, sitting significantly decreases changes in the lower back curve. If you find yourself standing a lot, due to work or habits, try taking sitting breaks. You'll also want to make sure your chair has sufficient back support.
When to see a doctor for lordosis
If the lordotic curve corrects itself when you bend forward (the curve is flexible), you do not need to seek treatment.
But if you bend over and the lordotic curve remains (the curve is not flexible), you should seek treatment.
You should also seek treatment if you're experiencing pain that interferes with your day-to-day tasks. Much of our flexibility, mobility, and daily activities depend on the health of the spine. Your doctor will be able to provide options for managing the excess curvature. Treating lordosis now can help prevent complications later in life, such as arthritis and chronic back pain