Branched-chain amino acids, more commonly known as BCAAs, include the essential amino acids leucine, isoleucine, and valine.
According to studies, BCAA supplements may help with muscle growth, reduce soreness and fatigue, prevent muscle wasting, and support liver health. BCAA's are found in a variety of food sources, such as meat, eggs, and dairy products.
BCAAs, or branched-chain amino acids, are a type of amino acid that differ from other amino acids because of their branched structure. BCAAs are essential because they are the only amino acids that are broken down in skeletal muscle. This means that you must consume them through your diet in order to obtain them.
Athletes and gym-goers commonly take BCAA supplements to enhance:-
Promotion of muscle protein synthesis
Suppression of muscle protein degradation
Muscle damage reduction
A quick look at the best BCAA supplements
If you find yourself either low on protein, skipping meals, or training fasted, branched-chain amino acids (BCAAs) may help you to retain muscle.
1. XTEND Original BCAA Powder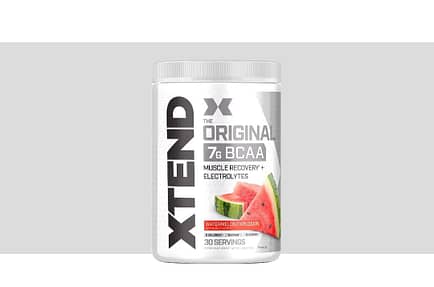 XTEND original by Scivation is one of the world's most-selling BCAA supplement brands. The reason, it's an excellent and well-balanced BCAA powder supplement that is blended in a 2:1:1 ratio of amino acids that including leucine, isoleucine, and valine.
It's a great option if you are looking for the best pre-BCAA supplement powder, that's because it has the addition of caffeine and Beta-Alanine, two highly effective ingredients. These additional ingredients boost extra energy and make a person last on a workout.
In addition, it contains plenty of electrolytes to help you sustain a high level of intensity throughout your workout.
One tub of Xtend's Original holds 30 servings and is priced at around $25. That means you're paying roughly $0.83 per serving, it's a reasonable price for sure, with all you're getting is 7 grams of BCAAs plus electrolytes and vitamin B6 for energy and hydration.
So if you're looking for a quality product that will give you the results you want, be prepared to pay a little bit more for it. With Xtend's Original, you can be confident that you're getting a great product at a fair price.
Why You Should Buy Xtend Original BCAA?
For the folk who wants a higher amount of branched-chain amino acids at a reasonable price, Xtend Original BCA Powder is the best option to purchase.
With a higher amount of BCAA, Xtend Original has an electrolyte and vitamin b6 for energy and hydration.
It doesn't contain any calories, sugar, or carbs, best for those who do not want these things on BCAA.
For folk who wants a number of flavors, Xtend BCAA comes in 14 different flavors: Blue Raspberry Ice, Mango Madness to Watermelon Explosion. It mixes well with water and dissolves completely.
Why You Shouldn't Buy Xtend Original BCAA?
Xtend Original BCAA has caffeine, that's why who wants BCAA without stim, Xtend Original is not suitable, you need to explore more stim-free BCAA.
It does not contain any EAAs.
2. Huge BCAA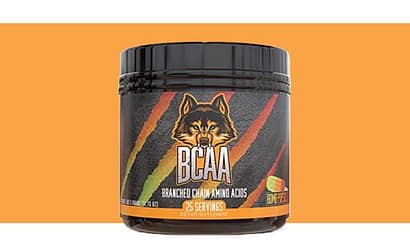 Out of all the different products we've tried, we found Huge BCAA by Huge Supplements to be the best BCAA powder supplement currently available after Xtend Original BCAA. We love that it's vegan and has no artificial sweeteners or flavors, plus it mixes easily and tastes great!
Huge BCAA is loaded with high-quality amino acids. One scoop contains nearly 15 grams of amino acids, including a massive 8000mg of BCAA's (2:1:1).
You'll also find other vital ingredients in this product, such as L-Glutamine and Coconut Water Powder, to support you during and after intense workouts.
Because this BCAA powder has such a wide variety of quality ingredients, it's a great supplement to drink during, before, or after your workout. You can even stack it with a pre-workout supplement to take your workout intensity to the next level.
Why You Should Buy Huge BCAA Powder?
Bodybuilders or anyone looking to gain muscle. This formula facilitates that goal better than other picks on this list due to its inclusion of glutamine and high dose of BCAAs.
For the folks who are looking for a workout with proper hydration, the huge BCAA will appreciate coconut water powder here.
Lifters who want multiple flavors to choose from will appreciate that there are four here. Backed by hundreds of positive online reviews.
Zero calories per serving.
Why You Shouldn't Buy Huge BCAA Supplement?
Huge BCAA supplements may be expensive for some individuals, the person who needs budgets friendly BCAA supplements must purchase Xtend BCAA.
People who are avoiding artificial ingredients will want to steer clear of this product.
3. JYM BCAAs
JYM Supplement Science has a perfectly formulated BCAA supplement that is both effective and delicious.
This supplement contains 3 grams of L-Leucine, 1.5 grams of Isoleucine, and 1.5 grams of L-Valine per serving. That's the scientific 2:1:1 ratio you should be looking for in these products.
This supplement has a transparent ingredient profile that is designed to support muscle protein synthesis. This means that it can help you recover and grow after your workouts, and on rest days. Sip it post-workout to make sure you're fully charged for your next session!
Reason to Buy:
Great mixability and dissolves completely.
Formulated to minimize muscle breakdown.
Highest quality ingredients at full, efficacious doses, and with complete transparency.
No artificial colors or dyes.
Reason to Avoid:
Only have two flavor options, which is disappointing for those who want a variety of flavors.
Not available on amazon.
No electrolytes and other performance-enhancing ingredients.
4. Cellucor Alpha Amino EAA & BCAA Powder
Alpha Amino is the ultimate performance, hydration, and recovery sports drink powder. Whether you're just starting out, or ready to reach that next level, Alpha Amino will support you throughout your entire journey.
Another key benefit of this product is that it helps you replenish your body so you can perform at your best during a workout.
Dehydration and depletion won't be a problem if you're taking this supplement during intense sessions.
Reason to Buy:
Extra electrolytes are included that help with proper hydration.
This product is sugar, soy & calorie-free.
Includes Betaine Anhydrous for performance.
Reason to Avoid:
For optimal effects, two scoops are recommended.
A moderate dosage of amino acids.
5. ON Amino Energy
Looking for an energy boost to help you power through your workouts? Optimum Nutrition Amino Energy has you covered.
With 100 mg of caffeine and 5 mg of amino acids, it'll help you stay focused and energized throughout your workout, and support your muscle recovery afterward.
Plus, ON Amino Energy has only 2 g of carbs, 10 calories, and zero sugar, so you can feel good about what you're putting into your body. And with 15 delicious flavors to choose from, you'll never get bored.
Reason to Buy:
It includes caffeine that helps you with stay focused and energized.
It helps preserve muscle mass
Great mixability and dissolves quickly
Great trusted company and has high positive reviews about ON Amino Energy.
Reason to Avoid:
It includes other ingredients with 5g of amino acid.
Limited flavors option
It does not contain any EAAs.
Those on a keto diet may have to look for other BCAA options.
6. EVLUTION NUTRITION BCAA 5000
EVLution Nutrition's BCAA5000 is a pre and post-workout drink that delivers 5000mg of branched-chain amino acids per serving.
BCAA5000 has a moderate amount of amino acid (5g), so the optimal effect for recovery, it's recommended to take two scoops.
It's totally sugar-free and has no other ingredients, it is pure and made of a combination of basics on the ratio of 2:1:1 amino acid.
Reason to Buy:
Perfect BCAA for building lean muscle.
Promote muscle recovery very fast.
Zero sugar or carbohydrates.
Best for both pre or post-workout drinks.
A wide variety of flavors.
Preferable for both men and women.
Reason to Avoid:
No electrolytes and other performance-enhancing ingredients.
How We Choose The Best BCAAs
There are so many BCAA products on the market these days, it can be hard to know which ones are actually worth taking. That's why we've done the research for you and selected only the best BCAA products that are not only packed with nutrients, but also taste great.
So you can feel confident that you're getting the most out of your workout, without having to worry about what you're putting into your body. This article lists BCAA supplements that meet the following criteria:
Ingredients: We ensure high-quality amino acids, and other ingredients and are free of artificial additives, including sweeteners, colorings, and flavors.
Third-Party Tested: The BCAA we listed in this article are backed with so much lab testing, so without any hesitation, you can trust their labels.
Customer Feedback: We know that the people in our fitness community are true experts when it comes to BCAAs. They know how to swap flavors and formulas to get the perfect combination, just like a fine wine.
What is BCAA?
The full form of BCAA is a branched-chain amino acid that is an essential amino acid, meaning it they cannot be made by your body and must be obtained through your diet.
Branched-chain amino acids are the molecular structures of three essential amino acids that are leucine, isoleucine, and valine which are metabolized by the body and used as sources of muscle energy.
With BCAA supplements powder these three amino acids are also found in a variety of food sources, including meat, eggs, and dairy products.
Benefits of BCAA
Below are the proven benefits associated with BCAA drink:
Increase Muscle Growth: BCAA supplementation can also help improve lean muscle mass and decrease the percentage of body fat.
Reduce Muscle Soreness: Several studies indicate that BCAA decreases muscle soreness after a workout.
Reduce Fatigue: BCAAs may help decrease muscle soreness from exercise, and they may also help reduce exercise-induced fatigue.
Prevent Muscle Wasting: BCAA supplementation can help reduce the muscle damage that occurs during high-intensity exercise.
Side Effects of BCAA
Branched-chain amino acids are possibly safe when taken by mouth appropriately.
But a higher amount can effects the digestive system, for example, whether or not nausea, abdominal pain, vomiting, and diarrhea are present. As the liver and the kidneys are the main organs involved in the metabolism and excretion of excess substances from the body, a large part of the studies focuses on hepatic and renal functions.
What does BCAA do?
BCAAs are amino acids that have a chemical structure known as a "branched-chain." These amino acids are thought to stimulate the build-up of protein in muscle and possibly reduce muscle breakdown.
BCAAs are commonly used to improve athletic performance, prevent fatigue, reduce muscle breakdown, and for other purposes. However, there is not enough reliable information available to support all of these uses. BCAAs are sometimes used to reduce brain function in people with advanced liver disease or for a movement disorder that is often caused by antipsychotic drugs.
If you are considering using BCAAs for any purpose, it is important to speak with your healthcare provider first to ensure that it is safe for you and to get the proper dosage recommendations.
When to take BCAA?
BCAAs can be taken before, during, and after workouts to rapidly increase amino acid levels in the bloodstream, promote protein synthesis, and prevent muscle protein breakdown.
But the best time to take your BCAAs is within an hour or 30 minutes prior to your workout for muscle growth and recovery.
The bottom line
BCAA supplements are very popular in the fitness industry for increasing exercise performance.
The best BCAA supplement for bodybuilders, muscle growth, and for men is XTEND Original BCAA Powder for the reason, it's an excellent and well-balanced BCAA powder supplement that is blended in a 2:1:1 ratio of amino acids that includes leucine, isoleucine, and valine.
It's a great option if you are looking for the best pre-BCAA supplement powder, that's because it has the addition of caffeine and Beta-Alanine, two highly effective ingredients.
Related Articles:
6 Best L-Carnitine Supplements for Fat Loss.