When it comes to protein powders, Optimum Nutrition's Gold Standard whey protein is one of the best-known and most widely consumed options on the market.
It's the number one seller on Optimum Nutrition and Amazon.
But what does that mean? Is it really a great product or is it just the most popular?
Does it deserve the position that their millions of people use and trust it?
ArrdosFitness.com investigate the world favorite and found that it's well priced, has excellent macronutrients, and scores highly for label accuracy — three qualities that are hard to come by in the whey protein industry.
So, although there are many protein powders on the market, Optimum Nutrition's Gold Standard whey protein may be the best-known for a reason. Read the full article to look at why you have to purchase it!
What is ON Gold Standard whey protein?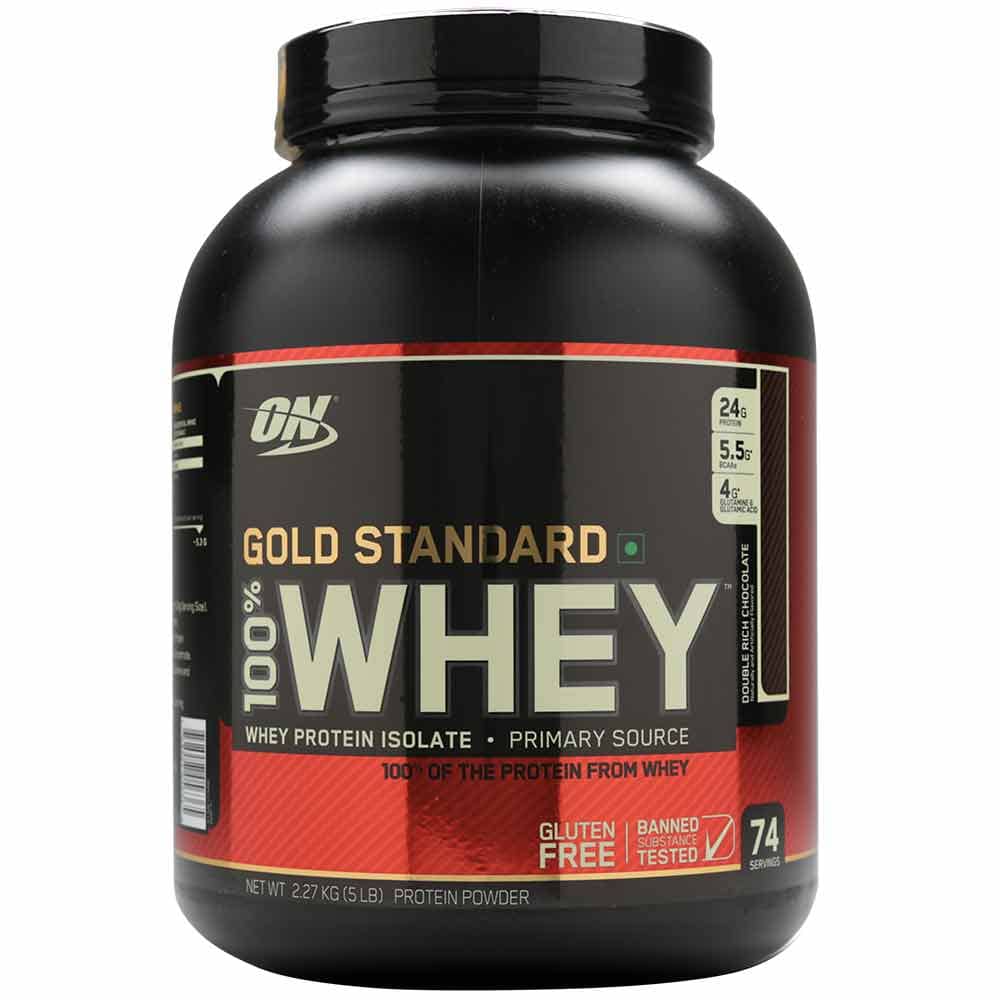 Post-Workout Muscle Support & Recovery
24 Grams of Protein per Serving to Help Build and Maintain Muscle
5.5 Grams of Naturally Occurring BCAAs per Serving to Support Endurance and Recovery
The World's Best-Selling Whey Protein Powder
The Optimum Nutrition Gold Standard 100% Whey Protein powder is an excellent post-workout nutritional supplement that provides your body with the necessary nutrients it needs to recover from an intense workout and build muscle.
Each serving of Gold Standard whey protein provides around 24 grams of protein, 3 grams of carbs, 1 gram of sugar, and 1 gram of fat.
Gold Standard whey protein speed-up your recovery after a sweaty gym session and helps to build or maintain muscle.
Optimum Nutrition (ON) has been involved in the sports nutrition industry since 1986. Sold in 90+ countries, it's owned and manufactured by Optimum Nutrition Inc.
It is available in 20 different flavors in different sizes, you can choose anything from coffee and chocolate hazelnut to french vanilla crème and strawberry banana. You can also purchase an unflavored option.
The different sizes option includes:-
6 Servings (6.56 oz)
14 Servings (1 lb)
27-30 Servings (2 lbs)
68-75 Servings (5 lbs)
141-149 Servings (10 lbs)
ON Gold Standard Whey Ingredients
To find out, what ingredients are found in the Double Rich Chocolate Gold Standard Whey Protein, I put a closer look at it. And here is what I found. (Nutrition Facts Gold Standard Whey Protein).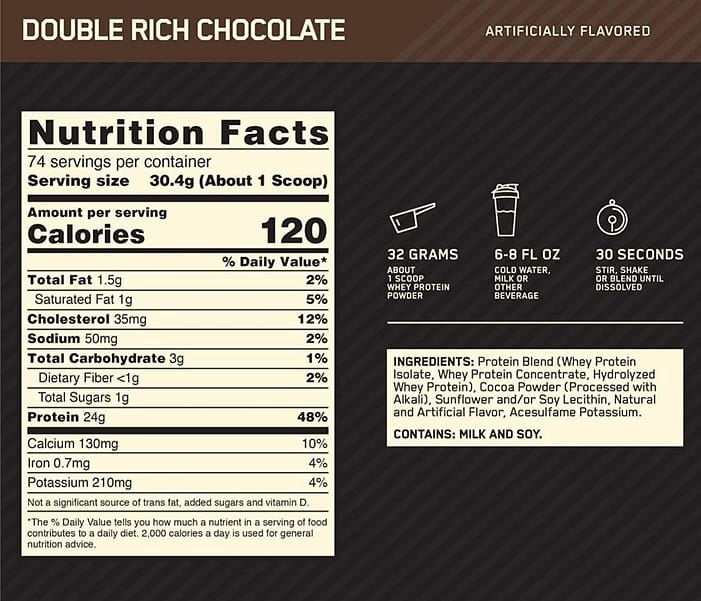 5lbs Double Rich Chocolate Gold Standard has 74 servings per container. 1 serving scoop size is about 30.4 grams, providing almost 120 calories per serving.
About 1 scoop of 30.4 grams serves 24 grams of pure protein, 1 gram of fat, 3 grams of carbs, and 1 gram of sugar.
Below are the main ingredients of gold standard whey protein that include 3 different protein blends and other artificial or natural flavors and some more.
Protein blend – Whey Protein (isolates, concentrates, and peptides)
Cocoa
Lecithin
Natural and artificial flavors
Acesulfame potassium
Aminogen
Lactase
I. Whey Protein Isolates:
Whey protein isolate is a highly filtered and pure form of whey protein that contains little to no lactose, fat, cholesterol, carbohydrates, and calories. This makes it an ideal choice for people who are intolerant to lactose, as well as those looking to maintain muscle mass while losing fat.
Whey protein isolates contain at least 90% protein content and are typically the best quality protein type on the market. This higher protein content means that you're getting more of the muscle-building benefits that you want from whey protein.
II. Whey Protein Concentrates:
Whey protein concentrate is the other common form of whey protein. Its main difference from whey protein isolate is that it contains more lactose, fat, and carbohydrates. However, it also contains more of the beneficial components found in whole milk.
The protein content in whey protein concentrate varies depending on the level of concentration, with most whey protein concentrates containing between 70-80% protein.
III. Whey Protein Peptides:
Whey peptides, more commonly known as whey protein, is a supplement made from the liquid part of dairy products called milk plasma.
What makes this protein so beneficial is that it contains long strands of amino acids which are the building blocks of proteins in the human body. This is why people who are looking to gain muscle or have a faster recovery rate from strenuous workouts benefit from taking whey peptides.
IV. Other Important Ingredients:
Lecithin: Lecithin is an ingredient that is often used to improve the mixability of food products.
Acesulfame potassium: Acesulfame potassium is a sweetener that's about 200 times sweeter than sugar. It's controversial in some circles but appears to be safe when consumed in small amounts.
Aminogen: Aminogen is a blend of enzymes that help digest the protein very fast and reduce gas.
Lactase: Lactase is an enzyme. It breaks down lactose and helps to digest the lactose easily.
Benefits of Gold Standard Whey Protein
Higher Quality and Pure Portein: ON Gold Standard 100% whey protein powder provide no unnecessary filler ingredients. It is completely protein approx 30 g of scoop provides 25g of protein which is known it the best isolate protein powder in the market.
Contain BCAA: Gold Standard Whey contain high quality of BCAA. BCAA is an another essential amino acid that help to build muscle growth or faster recovery.
Contain Glutamine: One more amino acid that is essential for bodybuilder who workout very hard or train the muscle twice a week. Glutamine boost the recovery faster and put a greater pump on muscle.
Mix-well: ON gold standard protein can easily mix with water and milk without any lump.
No Digestive Problem: The whey concentrate contain high amount of lactose that is hard to digest, so for that problem Optimum Nutrition add lactase to the formula, it break down lactose and helps to minimize or even completely eliminate the adverse effect of lactose.
Gold Standard Whey Protein Side Effects
Gold Standard Whey ingredients comes from natural food and doesn't contain any chemical, but it should go without saying that if you're vegan or allergic to cow products. The simple answer you shouldn't consume whey.
Some consumer also said that they can tolerate whey, but with high consumption makes them sick or upset the digestive system. They below are the side effects of ON gold standard whey protein with high consumptions effect:-
Digestive distress
Reduce appetite
Fatigue
Headache
Lazyness
Bloating
Whey protein is a common supplement among athletes and gym-goers, but you may want to avoid it during pregnancy and breastfeeding. Although there are many benefits to whey protein, little research has been done about its consumption by pregnant women. Until more is known, it's best to play it safe and get your protein from other sources.