| | |
| --- | --- |
| Muscle Worked: | Core. |
| Level: | Beginner's to Intermediate. |
| Main Goal: | Burn Calories and reduce fat. |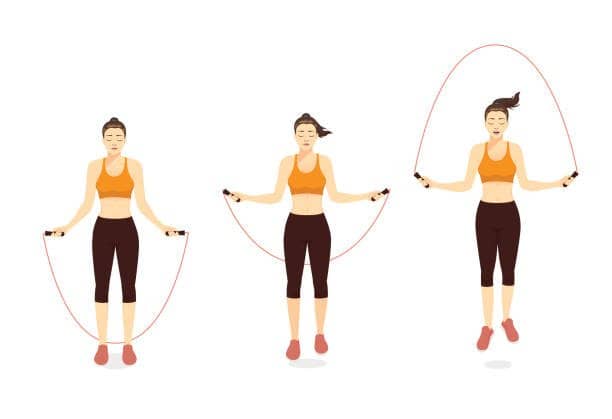 Jumping Rope is the best Cardio exercise for beginners at home that includes burning calories, better coordination, stronger bones, and improved heart health.
How to do Jump Rope?
Jumping rope is high impact and requires practice to do. It looks easy, but starters may pay some difficulties to do. For the best results, turn the rope with the wrists, and land softly. Only jump high enough to clear the rope.
Benefits of Jumping Rope!
Skipping rope is the best cardio exercise, it pumps your heart and increases the heart rate. That causes reduces the risk of heart diseases and stroke.
Skipping rope build stamina and the ability to perform others' workout in a greater way.
Skipping rope also improves your respirational system.
It loses fat from all the areas of your body.
Skipping rope improves your flexibility, that's why it is the best exercise for athletes.
It improves your mental power.
Jumping Rope vs Jumping Squats
Jump Rope is similar to jacks in that they are both target cardio health. Jump ropes target more agility and stamina-based fitness and are fun to do while jumping jacks is a stretching movement.
Fat loss: To fun to do jumping rope is an easier process to reduce fat from all the areas and also work hard to lose fat rather than jacks.
Cardio: Jumping Rope, you have a high intensity of motion where your heart pumps faster instead of jacks.
Muscles Target: Jumping Rope muscles worked: Abs, obliques, shoulder, upper back, glutes, hamstrings, hips. Jumping Jack's muscles worked: Core, triceps, hamstrings, glutes, calves, quads.
---
Related Articles: How to do Jumping Jacks?, How to do Jumping Squats?