A maximum number of athletes and bodybuilders are lacking to thought about consuming intra workout supplements, they even know about their importance of it.
Our fitness industry mostly tells us about the post and pre-workout importance. After a workout, you should consume this and before a workout, you should consume that. But WHAT ABOUT INTRA-WORKOUT supplements?
An intra-workout supplement can help by keeping you energized and focused during your training session, as well as enhancing your muscle pumps. Also, increase endurance, improve hydration, and reduce muscle breakdown.
If you ever feel hungry or drained during a workout, it's a sign that your pre and intra-workout diet isn't giving you enough energy.
Table of Contents
Top 5 Intra Workout Supplements of 2023.
We've reviewed and ranked the five best intra-workout supplements that will push your fitness to new heights.
1. NutraBio Intra Blast – Advanced Electrolyte Performance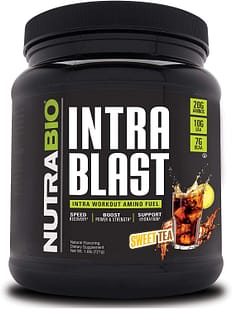 Intra Blast is, without question, the most advanced intra-workout amino-acid product ever created. This product provides amino acids, electrolytes for hydration, and strength training recovery enhancers, making it an incredibly versatile intra-workout supplement.
The NutraBio Intra Blast container contains 30 servings of scoop and each scoop provides 10 grams of EAA and 7.4g of BCAA contribute to protein synthesis and are important for recovery after intense exercise.
On top of that, there are 4.5 grams of the other essential amino acids: L-Lysine, L-Threonine, L-Histidine, L-Phenylalanine, L-Methionine, and L-Tryptophan.
Plus, the box also provides 5 grams of L-Glutamine is included for endurance support. Also, NutraBio Intra Blast contains taurine and electrolytes that help to maintain water balance in the muscles, facilitate motor neuron function, and increase exercise capacity.
Nutra Bio Intra Blast will mix easily in a blender bottle. The taste gets almost universally positive reviews.
2. XTEND Natural Zero BCAA Powder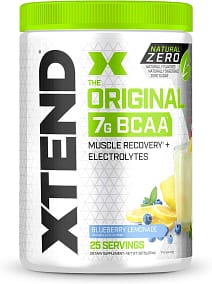 In regards to budget-friendly intra-workout supplements, Scivation Xtend Original BCAA is one of the best on the market as it contains zero calories, sugar, and carbs.
XTEND focuses on delivering branched-chain amino acids, electrolytes, citrulline, and vitamin B6.
These ingredients boost your performance in both high-intensity and resistance-based exercises, and should help keep you going even in hot and humid conditions.
The box contains 90 servings of scoop and each scoop provides 14 grams of BCAA and EAA amino acids. Plus, in 14 grams of powder, the Xtend also provides electrolytes that help you to stay hydrated and support recovery.
3. Controlled Labs Purple Wraath
Any intra-workout supplement that includes ingredients such as Citrulline Malate and L-Arginine will result in increased intensity of your pumps. This, in turn, means more nutrient-rich blood being delivered where it is needed most.
Controlled Labs Purple Wraath Intra workout supplement container contains 90 servings of a scoop. Each scoop provides 13 grams of BCAA and EAA amino acid powder.
Controlled Labs Purple Wraath provides you with BCAAs in the recommended 2:1:1 dosage. You get the following BCAA dose: L-Leucine: 2300mg + L-Valine: 1700mg + L-Isoleucine: 900mg. That's a total BCAA content of just under five grams.
This product is perfect for those who are looking to improve their performance and recovery, as well as those who are trying to build lean muscle mass.
PurpleEEA Complex helps to reduce lactic acid and ammonia while promoting a boost in energy, mitochondrial function, and muscle fullness.
4. Old School Vintage Burst Nitric Oxide Supplement
The advanced formula found in Vintage Burst nitrous oxide supplements for men can allow you to achieve a massive 3-hour pump with just a single dose.
Vintage Burst is loaded with ingredients like L-Arginine HCl, patented Spectra, and Vanadyl Sulfate to enhance blood flow. 
Vintage Burst nitric oxide booster promotes better performance, the addition of patented CoffeeBerry Organic Coffee Fruit Extract, Coffea Arabica, and Maca Root Extract help naturally boost energy levels and stamina without causing jitters or side effects that interfere with your workouts.
5. MuscleTech BCAA Amino Acids + Electrolyte Powder
MuscleTech BCAA Amino Acids + Electrolyte Powder is one of the leading brands in the supplement industry, so if you are looking for supplements to take during workouts then you certainly can't go wrong with MuscleTech BCAA amino acid.
The box has 30 servings of scoop and each scoop provide 4g of BCAA in a ratio of 2:1:1 amino acid and other essential ingredients that aid you at a workout.
It also provides 50mg of coconut water and 50mg of watermelon juice, plus essential electrolytes to help replace what is lost during exercise.
Benefits of Intra-Workout Supplements
From amino acids to carbohydrates and all manner of other beverages and their compounds, the best intra-workout supplements are quickly proving to be the missing link in the training progress of many bodybuilders and athletes.
Intra-workout supplements are products that you drink DURING your workout sessions. They are designed to nourish your body during intense activity and keep you going, while at the same time providing you with the nutrients and minerals that replenish energy and strengthen and repair muscles.
Intra-workout products will help your body recover much quicker than usual since, if used properly, they will keep your body and muscles from being completely drained.
Who should use an intra-workout product?
Well, it all depends on how serious you are about gaining muscle and your fitness goals. For the average joe who goes to the gym two times a month, then it's obviously not a necessity, but if you find yourself at the gym almost every day or every other day, then you should definitely consider picking one up. There are too many benefits for you to not give it a go, and it's not difficult to take. Sip it during your workouts in between sets and you're good to go!
What We Consider in Our Intra-Workout Supplement Rankings
These are just a few things we take into consideration when sorting through the many products and narrowing it down to the 5 best intra-workouts-
Overall quality
Effectiveness
User feedback and customer reviews
Production quality
Brand/company quality, history, and reputation
Pricing
Flavoring, serving sizes, and value for the money
With this in mind, we have gathered together what we believe to be the five best intra-workout products available. We have ranked these products based on factors such as user reviews, ingredients used, sales, and overall quality and brand quality.