Experience the power of massage and bid farewell to hand pain forever! Adopt a self-care routine to get long-lasting relief from chronic discomfort.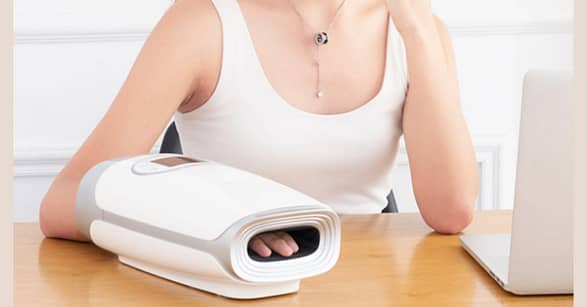 Research has confirmed that a blend of expert hand massages and self-massage can effectively reduce hand pain resulting from arthritis and other ailments.
A recent study conducted by the Touch Research Institutes at the University of Miami demonstrates that weekly therapeutic massages combined with daily self-massages can help alleviate hand pain. By embracing massage, you can opt for a natural approach to wellness instead of relying on medication.
So, why rely on medication when you can benefit from the wonders of massage in the comfort of your own hands? Give yourself the gift of pain-free hands with the magic of massage today!
Quick links about the best hand massager for arthritis.
Top Hand Massagers – Best of 2023 Ranked.
Tired of aching hands and fingers? Get ready for some much-needed relief with the top 6 Best Hand Massagers!
These innovative devices are designed to target your specific needs, from arthritis pain to general hand fatigue.
With multiple vibration modes, ergonomic designs, and cordless options, these massagers will have you feeling like new in no time.
Don't suffer through another day with aching hands, upgrade to one of the top 6 Best Hand Massagers for rheumatoid arthritis today and experience the comfort you deserve!
Best Cordless Acupressure Hand Massager for Carpel Tunnel.
This powerful and portable device combines traditional acupressure techniques with modern technology to provide targeted relief for arthritis pain. With its cordless design and multiple vibration modes, you can enjoy the benefits of acupressure anytime, anywhere.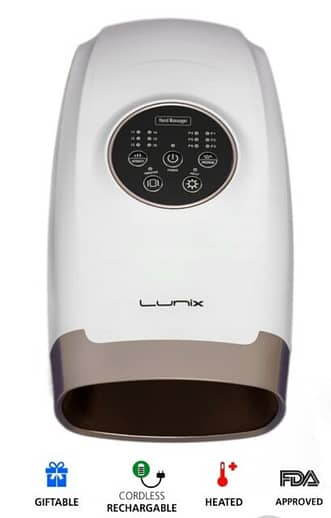 Lunix LX3 pressure point therapy massager provides an intense massage and is 100% adjustable to your own needs. The LX3 hand massager offers 6 levels of massage and intensity, combines compression, heat (it provides a gentle warmth, around 104°F – enough to relax and enhance the benefits of the massage), and vibration to offer you the closest feeling to a real hand massage.
The Lunix LX3 is cordless, lightweight, and rechargeable and comes in two colors: black and white.
Features of this hand massager include:
six levels of massage and intensity
a soft interior cushion
portability
acupressure therapy
heat goes to 104 degrees
including vibrator
The device is based on acupressure therapy, and the company states that it can reach its optimal temperature in 8 minutes.
Additionally, the company includes a finger massager with each purchase.
Best Finger-Targeting Massager for Arthritis. 
Comfier Wireless Hand Massager's innovative device is designed specifically to target pain in the fingers and hands, providing deep tissue massage to help relieve arthritis symptoms.
Comfier Electric Hand massagers are specially designed to adopt air pressure and compress hot air to pamper every part of your hand and work on the fingers and knuckles to ensure total relaxation. The massager helps get rid of any knots and effectively relieves carpal tunnel syndrome and eases finger pains.
Features of this hand massager include:
Wireless and portable
light-weight and easy to use
air compression massage
soothing heat
personalize your message with different intensity levels.
built-in palm pressure point beads
an automatic shut-off after 15 minutes
Electric Hand Massager for Arthritis.
This powerful device packs a punch, delivering deep tissue massage to tired, aching hands. With its exceptional battery life and multiple vibration modes, you can enjoy the benefits of hand massage for extended periods of time.
The company claims this model is a universal size and can massage the hand, wrist, fingers, and palm.
Moreover, the massager is cordless, portable, and rechargeable, with a charging time of 3–5 hours and a charge lasting a few days. Recommended use is one-two 15-minute sessions per day.
The massager also includes a set of three hand therapy balls of different stiffness.
The massager has the following features:
six modes and intensity options
an optional heat function
two vibration levels
a soft cloth interior for comfort
a pre-set 15-minute treatment
a 1-year warranty
Best Hand Massager for Thumb Arthritis.
With multiple intensity options, you can customize your massage experience to meet your specific needs. Whether you're dealing with arthritis, hand fatigue, or just looking for some post-workout relief.
This model features a roller massage for the fingers, air pressure, and acupressure therapy to help increase blood circulation which relieves hand pain.
The device does not contain a battery, and a person will need to have it plugged in to use it.
Other features include:
three massage modes
three-finger roller intensities
three palm compression intensities
a 360-degree full massage
an optional heat setting
a 20-minute treatment timer
The device is available for around $99.99 on Amazon, with a rating of 3.9 out of five stars, based on over 40 reviews.
Best Battery Vibrating Hand Massager Gloves.
Patent-pending Therapy Gloves may provide soothing relief for those with arthritis or other chronic conditions that result in pain in your fingers or hands. Simply slip the gloves on and push a button. Small vibrating motors embedded in the gloves begin to work immediately, providing a subtle, yet effective, method of increasing blood circulation and warming aching joints.
The massager has the following features:
Target messages fingers
Uses compression
Made with cotton to prevent overheating
greater comfort
chargeable
Suggest that 20 – 30 minutes of treatment two times a day may provide lasting relief.
Best Hand Massager Machine for Arthritis
When your hands begin to feel like talons because of arthritis, place them inside the Lunix LX7. The padded interior will immediately put you at ease. The device mixes compression, heat therapy, and vibration for an authentic massage experience. Designed to mimic shiatsu bodywork, the LX7 hits acupressure points, promoting pain relief. Select between four levels of heat, pressure, and intensity. It also massages the wrist!
Features include:
Combines heat, compression, and massage for a blissful therapeutic experience
Easy-to-read touchscreen
Cushioned interior for your comfort
Read: Top 3 Best Hand Massagers for Arthritis – Ranked of 2023.
Hand Massager Buying Guide: What to Look For 
Hand massagers can alleviate pain, increase circulation, and relieve tension in your hands. But with so many types and brands of hand massagers on the market, it can be challenging to choose the right one. In this article, we'll explore the essential features to consider when purchasing the best and top-rated hand massager.
1. Type of Hand Massager
There are several types of hand massagers available, including electric massagers, compression massagers, and manual massagers. Electric massagers operate using batteries or electrical power and provide a hands-free massage experience. Compression massagers use airbags to provide pressure around your hands, which is particularly beneficial for those with circulation issues. Manual massagers, on the other hand, require the user to massage their hands by squeezing, rubbing, or rolling the device with their hands.
2. Size and Weight
Hand massagers come in different sizes and weights, and choosing the right one for you depends on your preferences. If you're planning to use your hand massager while traveling, choose a portable and lightweight option. Alternatively, if you're looking for a massager for daily use at home, you may want to consider a heavier and more robust model.
3. Customization Features
Some hand massagers come with customizable features such as adjustable pressure, heat therapy, and various massage modes. These features allow you to tailor the massage experience to your needs and preferences.
4. Durability
The durability of a hand massager is essential because you want to ensure that it will last you a long time. You don't want to spend a lot of money on a product that breaks after a few uses. Look for massagers made from high-quality materials and read customer reviews to get an idea of their durability.
5. Price
The price of hand massagers can vary widely, from budget-friendly options to high-end models. Consider your budget and determine the features that are essential for you. A high-end hand massager may have more features, but it may not necessarily be the best option for everyone.
What Causes Arthritis?
Arthritis, a condition that causes joint inflammation and swelling, affects millions of people worldwide. As per the Centers for Disease Control and Prevention (CDC), about 58 million people have been diagnosed with the condition. The two most common types of arthritis are osteoarthritis and rheumatoid arthritis.
Osteoarthritis develops when the cartilage between the joints breaks down, causing the joints to rub together, which leads to discomfort and pain. This type of arthritis is often the result of repetitive movements or excessive body weight.
On the other hand, rheumatoid arthritis is an autoimmune disorder that affects the links between joints and causes enzymes to target healthy tissues. It typically affects the fingers, wrists, and knees and may cause systemic symptoms such as fatigue, anemia, eye inflammation, fever, and weight loss.
Understanding the differences between these two types of arthritis is essential in determining the right treatment plan.
While osteoarthritis may benefit from exercise and weight management, rheumatoid arthritis often requires medications and other therapies. If you experience any symptoms of arthritis, consult your healthcare provider for proper diagnosis and treatment.
How do hand massagers work?
A hand massage can do more than just reduce pain and increase flexibility – it can be used as a stress reliever or anxiety management tool, too.
Hand massagers usually have a design that lets you place your hand inside the device, which then creates vibrations that help increase blood flow to different areas of your hand.
Hand massagers also provide compression, kneading, and heat, which can all make your hands feel more relaxed.
The massager actually uses vibrations to heat up your muscle tissue and make the blood flow better in that area. The vibrations hit the soft tissue over and over, which makes the blood flow to that area better.
The gentle pressure from the massager can make any tight muscle tissue relax or make scar-like tissue called adhesions softer. This helps the muscle fibers get longer.
How we choose
Arrdos Team chooses products that meet the following criteria:
Price: Arrdos chooses products suitable for a variety of budgets.
Features: Arrdos selects products with useful features, such as an automatic shut-off, an overheating protection mechanism, or adjustable straps.
Suitability: Arrdos selects products to suit a range of needs, such as portability and extra temperature functions.
Alternatives to hand massagers
Professional massage. If you need something more hardcore than self-massage (like if your hand arthritis makes self-massage painful or impossible), consider getting a professional massage. There are massage therapists who specialize in chronic pain, arthritis, and trigger point work. Ask your friends, doctor, or physical therapist for recommendations.
Hand exercises. Hand exercises can help improve hand muscle strength, improve hand function, and increase flexibility.
Heat. Heat therapy is also recommended by the Arthritis Foundation. Heat can ease stiff joints, relieve muscle aches, and increase circulation. Several of the massager's picks above include a heat feature.
Ice. Cold therapy is a common way to reduce symptoms.
Tips for Self-Hand Massage
You can relieve arthritis pain at home through self-hand massage techniques, including "milking." This method involves gripping your fingers on the top of your forearm with your thumb on the underside, applying moderate pressure, and moving from wrist to elbow and back, slightly pulling your flesh. This helps with arthritis pain and stiffness by increasing blood flow and reducing inflammation. The same technique can be applied to your hand by placing your thumb on the top of your wrist and index finger at the bottom, then applying moderate pressure and pulling to each finger and palm.
FAQs
about Hand Massagers
What are the best hand massagers?
There are many-many-many hand massagers available in the market and everyone gives positive feedback to their product, this is best; that is best; but we personally love Lunix Lx3 hand massager. It features we listed are really well played and personally talks I also use it every day.
The others above are listed in the top 3 hand massagers based on prices, customer feedback, deep research, and their features. You can buy one of them without any hesitation; all of them work well.
Where to buy hand massagers?
You can purchase it anywhere, it depends on you. If you feel safe you can buy hand massagers online through amazon, Walmart, and other online stores; it is easily available online.
Rather you can also find it in offline stores.
Are hand massage machines good for you?
Yes, it is, vibrating hand massagers machine is a beneficial tool for managing hand arthritis. It generates acupressure that helps to promote blood circulation that manages your hand stiffness and pain.
There is also scientific evidence that has shown that a regular hand massage may help ease pain, increase hand strength, and reduce feelings of stress and anxiety.
Are hand massagers worth it for you?
Whether or not a hand massager is worth it for you will depend on your individual needs and circumstances. If you suffer from hand or finger pain, especially due to arthritis or other medical conditions, a hand massager can be an effective way to manage pain and improve circulation. Additionally, if you work with your hands or engage in repetitive manual tasks, a hand massager can help relieve fatigue and prevent injury.
Is hand massager relief rheumatoid arthritis?
Hand massage can provide temporary relief for some of the symptoms associated with rheumatoid arthritis, such as pain and stiffness in the hand joints.
Regular hand massages can improve circulation and reduce inflammation, which can help alleviate pain and improve joint mobility. However, it is important to note that hand massage should not be considered a substitute for medical treatment.
Individuals with rheumatoid arthritis should consult with their doctor to determine the best course of treatment for their individual needs, which may include medication, physical therapy, and other interventions.
What is the best hand massager?
Determining the best hand massager brand for rheumatoid arthritis is subjective and depends on individual preferences and needs. Some of the most popular and well-regarded brands include Lunix LX3 Cordless Electric Hand Massager, Purology LXB Hand Massager, and Comfier Wireless Hand Massager. These brands are known for producing high-quality and effective massagers that deliver deep hand acupressure massages.
The takeaway
If you're struggling with arthritis in your hands, know that you're not alone. Many people suffer from this painful condition, but there are things you can do to ease your symptoms. Be patient as you explore all the different options for managing your pain and stiffness. Self-massage can be a helpful tool, but it's not the only solution. Don't be afraid to try different techniques until you find something that works for you.
Think of self-massage as a tool for your arthritis relief toolkit. The more techniques and products you try, the more knowledge you'll have about the best solutions for you. Good luck, and may your pain relief toolkit runneth over.
Related: TOP 8 BEST ELECTRIC HAND MASSAGERS FOR PAIN RELIEF – 2022.