Fucoxanthin is a natural pigment found in brown seaweed and some species of phytoplankton and is a member of the carotenoid family.
It is commonly found in supplements that are sold as dietary supplements, primarily promoted for their weight loss properties and antioxidant properties.
Some studies have suggested that fucoxanthin may help to increase the burning of fat in the body, although more research is needed to confirm these effects.
Additionally, it may have potential benefits in managing inflammation, cardiovascular health, and preventing diabetes.
Top 5 High-Rated Fucoxanthin Supplements
It is difficult to determine the "best" fucoxanthin supplement as different supplements may have different formulations and potencies. It is important to look for a supplement that has been manufactured by a reputable company and has been independently tested for purity and potency.
1. Horbaach Brown Seaweed Extract Capsules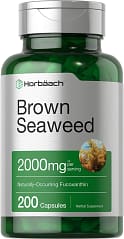 Brown Seaweed Extract Capsules by Horbaach are a powerful supplement that contains naturally occurring Fucoxanthin, a rich antioxidant.
The Horbaach box contains 200 capsules and each capsule delivers 2000 mg of Brown Seaweed plus Fucoxanthin per serving, ensuring optimal absorption of the beneficial compounds.
In addition to Brown Seaweed and Fucoxanthin, these capsules also contain Green Tea Extract, which is standardized to contain 95% Polyphenols and EGCG. This added ingredient provides additional antioxidant support and may help with weight loss.
Horbaach manufacturers are committed to providing the highest quality ingredients. Their products are laboratory tested and 100% guaranteed. These Brown Seaweed Extract Capsules are naturally free of gluten, wheat, yeast, milk, lactose, soy, artificial color, and flavoring, and are non-GMO.
2. Garden of Life Fucoxanthin Supplements Capsules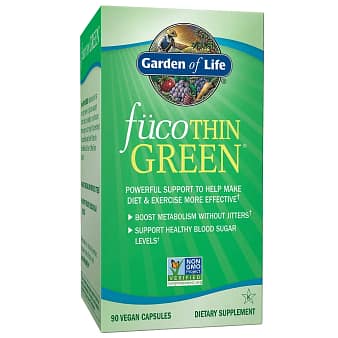 Garden of Life's Fucothin green capsules is a clinically studied, non-stimulant natural fat burner that utilizes the power of Xanthigen and Svetol to increase metabolic rate and burn fat, making diet and exercise more effective.
The box contains 30 servings of capsules. The company suggests that to achieve optimal results, consumers should take 3 servings of capsules per day. Each serving of the supplement provides 1450mg of Xanthigen and Svetol Green Coffee Bean Extract, which are clinically studied ingredients that work together to increase the metabolic rate and burn fat naturally.
It is made with high-quality, natural ingredients and is Third-Party Certified Non-GMO Project Verified, Vegan and Kosher, as well as RAW and Gluten Free.
3. SOLARAY Fucoxanthin Special
SOLARAY Fucoxanthin Special Formula Vegetarian Capsules are dietary supplements that contain 400mg of fucoxanthin per capsule. With 30 capsules per bottle, this product is marketed as a convenient way to add fucoxanthin to your diet.
4. Source Naturals FucoxanTHIN
Source Naturals FucoxanTHIN is a supplement derived from brown seaweed that is rich in the pigment fücoxanthin. This pigment imparts the seaweed its brownish hue and a host of potential health benefits. Studies show that fücoxanthin may stimulate the production of a protein called UCP1, which could signal the body to convert stored fat into heat and energy. When combined with a balanced diet and regular exercise, fücoxanthin may help support weight management. Additionally, it may alleviate metabolic inflammation caused by excess fat in the abdominal area.
5. Best Naturals Fucoxanthin
Best Naturals Fucoxanthin may support weight loss with a balanced diet and exercise. It is a potent antioxidant that combats free radical damage and promotes cellular health. It also enhances metabolism and energy levels. All Best Naturals products are made in the USA, following strict Good Manufacturing Practices (GMP) standards. Quality and potency are guaranteed.
What is Fucoxanthin?
Fucoxanthin is a popular weight management supplement that comes in various forms including capsule, pill, softgel, vcap, and bulk. It is often combined with other compounds, such as omega fatty acids and punicic acid, to enhance absorption.
It goes by several names in the supplement industry, including FucoThin (by Garden of Life), Fuco, Undaria Pinnatifida, and Seaweed Extract.
Fucoxanthin is a type of carotenoid pigment, which is known for its fat-solubility and hues of red, yellow, orange, or a combination of the three. Carotenoids, such as carotene, give color to carrots, tomatoes, and autumn leaves.
Benefits of Fucoxanthin
Below are the potential health benefits of fucoxanthin:
Antioxidant properties
Anti-inflammatory effects
Weight loss promotion
Improved insulin sensitivity
Potential cancer-fighting properties.
FAQs
What does fucoxanthin do for the body?
Fucoxanthin is a pigment found in seaweed that has been shown to have various health benefits such as antioxidant, anti-inflammatory, weight loss promotion, improved insulin sensitivity, and potential cancer-fighting properties.
How long does it take for fucoxanthin to work?
The time it takes for fucoxanthin to start showing results varies and is not well established. Some studies suggest it may take several weeks to a few months to see a noticeable effect. It's important to note that individual results may vary and that taking fucoxanthin should be part of a healthy diet and exercise regimen for best results.
How does fucoxanthin help with weight loss?
Fucoxanthin is a naturally occurring pigment that is found in seaweed and has been shown to have weight loss properties by increasing energy expenditure and decreasing fat accumulation. This is thought to be due to its ability to activate the expression of thermogenic genes in white fat cells, leading to increased oxidation of stored fat.
What foods contain fucoxanthin?
Fucoxanthin is found in several species of edible brown seaweed, such as wakame, kelp, and kombu. These seaweeds are commonly used in traditional Japanese cuisine, such as miso soup, and can be found in some specialty food stores and Asian markets. Some dietary supplements also contain fucoxanthin as an ingredient.
Where to buy fucoxanthin supplements?
Fucoxanthin supplements can be purchased at many retailers, including health food stores, vitamin shops, and online retailers. Some popular online retailers that sell fucoxanthin supplements include Amazon, iHerb, and Thrive Market. It's always a good idea to check with a healthcare professional before taking any new supplement.