Carnitine supplements are quite sought after as they assist in weight loss. They work as excellent metabolism boosters and enhance athletic performance.
Carnitine is an ammonium compound produced by the liver and kidneys. It serves as a transporter of long-chain fatty acids into the mitochondria to be oxidized for energy production and therefore plays a key role in the regulation of lipid metabolism.
Accordingly, both scientists and sports nutritionists alike have entertained the notion that supplementation could increase the bioavailability of carnitine and enhance the overall capacity for lipid metabolism.
Animal food products like fish and meat are also rich sources of L-carnitine. The name L-carnitine is derived from the Latin word 'carnis,' which means meat.
Our body produces L-carnitine and stores it in our muscles and heart tissue, individuals may suffer from a deficiency like vegans, those under undue stress or anxiety, or those with specific genetic issues.
With so many products flooding the supplement industry, it is obvious to get confused while picking the right one for you. Let make us assist you to pick and choose the right one.
What are the Best Carnitine Supplements?
We put in hours of research and expert interviews to bring you the 6 best carnitine supplements that help you with weight or fat loss.
1. Best Fat Burner L-Carnitine Supplement.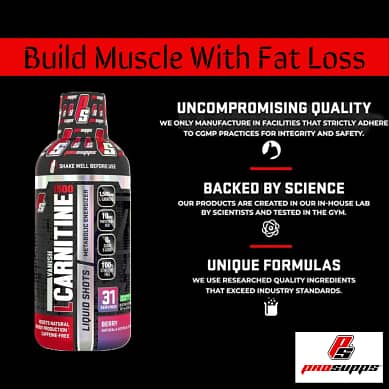 ProSupps L-Carnitine provides consumers with a great-tasting, sugar-free, calorie-free, and convenient way of supplementing with L-Carnitine and Pantothenic acid.
This product helps support the body's ability to transport fatty acids into the mitochondria of cells, translating to increased natural energy production, promoting exercise recovery, supporting exercise performance, and boosting cellular efficiency.
ProSupps L-Carnitine is ideal for anyone looking for a sugar-free way of boosting their natural energy production and recovering better from exercise.
ProSupps L-Carnitine is best for those who want the l-carnitine supplement in a liquid form.
The reason arrdos pick it up as a position first on the list is the other ingredients with carnitine without stim, help more conversion of fatty acid into the mitochondria of cells. In this process, you feel extra energetic with controlled famished.
As a dietary supplement, consume one tablespoon of L-Carnitine twice daily or as directed by a physician or licensed nutritionist. You may also mix it with your favorite juice or beverage.
You'll receive 31 servings per bottle, each providing you with 3000mg of l carnitine and 10mg of pantothenic acid. Pantothenic acid helps the body utilize carbohydrates, proteins, and lipids. It is also important for maintaining healthy skin.
Why You Should Buy ProSupps L-Carnitine?
For the person who wants the supplement in liquid form rather than powder or tablet-then, it is for you.
Promotes thermogenesis
Promotes natural energy production
Great tasting flavors
Stimulant-free
Why You Shouldn't Buy ProSupps L-Carnitine?
If you'd rather take a powder or tablet carnitine supplement, you can find better options out there. 
It contains a higher dose of l-carnitine, you may need to start with a smaller dose to avoid negative effects.
2. Best Carnitine Capsules for Fat Loss.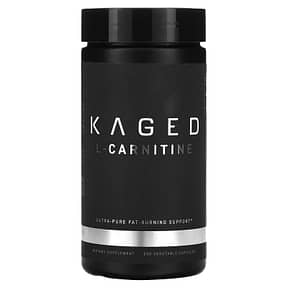 Kaged L-Carnitine uses a pure, patented form proven to reduce muscle soreness so you can train harder, recover faster, and burn fat as fuel.
A single bottle contains 250 capsules, and each capsule provides 500mg of L-carnitine. This product is also GMO-free and vegetarian as well, the pill capsule is made from vegetable cellulose. The price is quite reasonable as compared to the other carnitine products on the market.
Kaged recommends taking two capsules, three times per day on an empty stomach. When working out, take the capsules 30 to 60 minutes before training.
Why You Should Buy Kaged Muscle Carnitine?
Those who want a carnitine supplement that just contains carnitine will like this product. 
Anyone who follows a vegetarian diet. The capsule of this supplement is made of vegetable cellulose, which means it's a vegetarian-friendly product. 
For the person who wants the supplement in capsule form rather than powder or tablet-then, it is for you.
Kaged Muscle L-carnitine provides pure l-carnitine without including any other ingredient at an affordable price.
Why You Shouldn't Buy Kaged Muscle Carnitine?
If you want the l-carnitine supplement that is actually in the form of powder or liquid then you should move on to another l-carnitine supplement that is listed here.
The person who wants the l-carnitine supplement also contains other robust ingredients list, you can find products that contain other potentially helpful fat loss and muscle-building ingredients as well. 
3. Best Post Workout L-Carnitine Supplement.
If you're looking for a carnitine supplement to aid in your post-workout recovery, legion recharge is the product for you.
Legion recharge post-workout carnitine is best known for its weight management benefits, but it can also help your body recover from strenuous exercise.
Legion recharge post-workout will help you get back on your feet after a challenging workout so you can keep pushing yourself to reach your fitness goals.
Legion Recharge is a carnitine supplement and post-workout drink that might help with recovery and muscle soreness.
This supplement has 2.1g of carnitine, 5g of micronized creatine, and 10.5mg of corosolic acid. Using creatine and carnitine together might help you recover better and be ready for your next session.
Why You Should Buy Legion Recharge?
If you want a comprehensive post-workout supplement, you will find this product delivers additional ingredients that can help enhance your results i.e., with burning fat and also assisting to build muscle.
Those who want a high dose of carnitine will like that this supplement provides two grams per serving. 
Anyone who wants more than just carnitine in their supplement. This post-workout product comes with creatine and betaine as well.
Why You Shouldn't Buy Legion Recharge?
Anyone who wants only an l-carnitine supplement then it is not an ideal supplement.
Legion Supplement comes in powder form so those who do not want l-carnitine supplements in powder form can explore other options in the list.
4. Best Stim-Free L-Carnitine Fat Burner
Transparent labs come with a unique combination of clean and natural fat-burning ingredients, PhysiqueSeries Fat Burner Stim-Free is perfect for anyone intolerant to stimulants looking to optimize their fat loss efforts.
This product contains 750mg of acetyl l-carnitine, which may make fat more easily available to be burned. It also contains forslean and cayenne pepper ingredients that put a major role in burning fat and increasing metabolism in our body. When these ingredients burn unwanted fat the body feels energetic during a workout instead of dull.
This product is packaged in capsules with a recommended serving size of two capsules twice daily, both times 30 to 60 minutes before a meal.
Why You Should Buy Transparent labs?
Free of Caffeine
No artificial sweeteners or coloring
Gluten-free and non-GMO
Also, include forslean and cayenne pepper ingredients
Why You Shouldn't Buy Transparent labs?
Only available on its brand page.
5. Best L-Carnitine Capsule
Nutricost provides some of the best supplements on the market. A big standout is that the product is third-party tested, plus one little tub provides a considerable 500 servings of one gram each. This pure acetyl l-carnitine product provides 1,00mg of ALCAR per scoop, allowing you to modify the amount you take easily either up or down.
Acetyl l-carnitine may cross the blood-brain barrier more effectively than l-carnitine. ALCAR or acetyl L-carnitine is another form of L-carnitine. Both forms can increase exercise performance and the fat-burning process, thereby assisting in losing body weight.
Why You Should Buy Nuticost Carnitine?
Third-party tested.
Provide pure carnitine, with no other ingredients, are contained in it.
Non-GMO and Gluten Free
Why You Shouldn't Buy Nutricost Carnitine?
The strong sour taste of pure carnitine.
6. Best Carnitine for Athletes
Arazo Nutrition uses cutting-edge scientific research to help you get the most out of your nutrition. Their team of doctors, health specialists, and medical professionals has been providing industry-best products for more than ten years. They are driven by the desire to bring high-quality, low-cost supplies to everyone who wants them.
It also provides 330mg of Calcium per serving and greatly boosts metabolic rate, muscle strength, and bone health. Added Calcium boosts results when combined with L-Carnitine.
This US-based company uses only non-GMO products and focuses on producing affordable supplements and uncompromised quality.
Super Strength L-carnitine provides a serving size of 2 tablets and one container is equivalent to 60 servings. One serving is supposed to be taken once or twice a day or as directed by your physician.
Why You Should Buy Arazo Nutrition?
Calcium-enhanced super formula
Supports athletic performance and stamina
Burn fat to help lose weight
FDA-approved laboratory that is GMP-certified
Tested by a third party for purity
Why You Shouldn't Buy Arazo Nutrition?
The bottles hold fewer servings than other popular brands
The main label does not mention L-carnitine tartrate, but it is properly listed on the back label as the main ingredient.
---
Benefits of Carnitine
There is no doubt L-carnitine is the best supplement to burn body fat. But, it does not stop here, it covers all body fat into energy. As your body's capacity for fat-burning rises, so does your energy level. L-carnitine not only helps you increase the amount of fat burned with every workout, but you also get more energy for better workouts and an active lifestyle. Take a gaze below at some benefits of the L-Carnitine Supplement:-
i. Help to Loss Weight:
L-carnitine's main role in your body involves mitochondrial function and energy production. In cells, it helps transport fatty acids into the mitochondria, where they can be burned for energy.
Since L-carnitine helps move more fatty acids into your cells to be burned for energy, you might think this would increase your ability to burn fat and lose weight.
ii. Improve Heart Health:
L-carnitine is also linked to improvements in patients with severe heart disorders, such as coronary heart disease and chronic heart failure.
In one study, 2 grams of acetyl-L-carnitine per day resulted in an almost 10-point drop in systolic blood pressure — the top number of a blood pressure reading and an important indicator of heart health and disease risk.
iii. Increase Athletic Performance:
The evidence is mixed when it comes to L-carnitine's effects on sports performance.
However, several studies note mild benefits associated with larger or more long-term doses.
L-carnitine may also benefit with:
Recovery: May improve exercise recovery.
Muscle oxygen supply: This may increase the oxygen supply to your muscles.
Stamina: May increase blood flow and nitric oxide production, helping delay discomfort and reduce fatigue.
Muscle soreness: May reduce muscle soreness after exercise.
Red blood cell production: May increase the production of red blood cells, which transport oxygen throughout your body and muscles.
Sperm Quality: High doses of carnitine — two or three grams daily — appear to increase sperm quality with regards to sperm morphology.
Side Effects of L-Carnitine
L-carnitine is safe like other supplements. But high dosage can cause side effects such as stomach upset, heartburn, diarrhea, and seizures. It can also cause urine, breath, and sweat to have a "fishy" odor. Avoid using D-carnitine and DL-carnitine. These forms of carnitine might block the effects of L-carnitine and cause symptoms that resemble L-carnitine deficiency.
Recommended Dosage
L-carnitine has most often been used by adults in doses of 2 grams by mouth daily. In children, L-carnitine has most often been used in doses of 50-100 mg/kg by mouth daily, for up to one year. Speak with a healthcare provider to find out what dose might be best for a specific condition.
When is the best time to take L-carnitine?
As suggested by medical experts and bodybuilders, the best time to take L-carnitine is after a workout. You should be careful if you want to stack L-carnitine with other fat-burning supplements. In this case, it is best to take the acetyl-L-carnitine form of it.
FAQs
What is a common dose of carnitine?
Carnitine is available in dosages that range from 200mg to more than 1,000mg. Since it is an amino acid, there's no real limit to how much you can take, but taking more than 5,000mg a day doesn't seem to offer any additional benefit. Most carnitine supplements provide a dose of 500mg or 1,000mg, which can be adjusted up or down depending on your goals and needs.
What are the symptoms of l-carnitine deficiency?
Symptoms of the illness may differ from person to person – some may not experience any symptoms while others may only display mild ones. The most commonly reported symptoms are:
Muscle weakness
Soreness in muscles after a workout
Fatigue
Low concentration
Irritability
Should you avoid Carnitine if you not trying to lose weight?
Carnitine has both weight loss and muscle-building properties, so there's no need to avoid it when trying to build muscle and strength. In fact, many pre-workout and post-workout supplements include carnitine in their formulas because it's such an effective ingredient.
Final Word
Before adding any new supplements to your routine, it's always best to speak with a physician first. This is especially important with carnitine, as taking too much can cause unwanted side effects like nausea. When used properly, however, carnitine can offer many benefits such as fat loss, muscle retention, and improved brain function.
Related articles: