Caffeine is one of the most well-regarded and productive ingredients in any pre-workout. It's widely associated with positive health outcomes such as weight loss, improved cognitive performance, and even an improvement in exercise performance.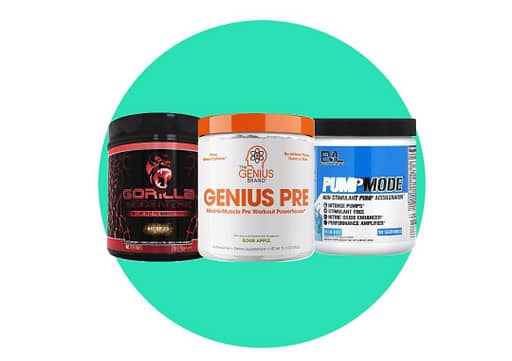 However, caffeine isn't a great choice for everyone. Caffeine has non-responders and those with hypersensitivity, it can be an intolerance for some and a totally ineffective compound for many others. Therefore, many supplement companies have started coming out with caffeine-free pre-workout supplements.
We put in the time and research to bring you the 6 best caffeine-free pre-workout supplements that don't contain any stimulants.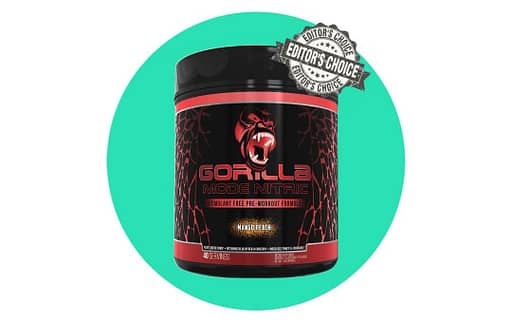 Gorilla Mode Nitric is one of the most comprehensive non-stimulant pre-workouts on the market. With Gorilla Mode Nitric you can expect a massive increase in nitric oxide (NO) levels, vasodilation, intracellular hydration, and as significant of a boost in muscle strength and endurance as you can get from a legal non-hormonal pre-workout. This product is maxed out from all angles.
Unlike most pre-workouts with stimulants, you won't have to cycle off Gorilla Mode as your body cannot build up a tolerance to the ingredients. You'll notice that they didn't cut corners with the expensive L-citrulline a nitric oxide booster that should increase blood flow and provide crazy pumps.
Promising review: "Each small scoop has 2.5 grams of creatine. This product does not contain caffeine or stimulants. It gives a real boost to your training and incredible pump."
Pros:
Killer pump
Increased endurance
Industry-leading nitric oxide ingredients
A huge dose of Creatine Monohydrate
Great Reviews
Quite a few flavors
Cons:
Pump Surge is a one-of-a-kind scientifically dosed pre-workout without caffeine. This unique formula is different from most pre-workouts because it relies exclusively on fully dosed ergogenic boosters and brain-enhancing nootropic ingredients.
Pumpsurge does not contain any caffeine, but it uses nootropics to improve cognitive function, memory, and more.
With L-citrulline, Taurine, Rhodiola, Bioperine, and glycerol, it gets into your muscles and gives them the kick they need to respond to your strength and efforts.
Mix 1 serving (1 scoop) of Pump Surge with 12-20oz of water 30-40 minutes before your workout.
Promising review: ""I CAN'T PUT MY ARMS DOWN!" That's right, you can't, because you are just too swole! The level of pump from Pump Surge is incredible. My normal pre is ALTIUS, which I love, but gave this a try and WOW!…"
Pros:
Effective ingredient choices
Good dosing
Solid all-rounder
Promotes muscle growth & vascularity
Cons:
Misses out on some important compounds
Could be better
Great taste, not-so-great texture
The PreSeries Stim-Free pre-workout supplement by Transparent Labs is what you might need to make the most of your workout.
It includes 13 active ingredients designed to increase nitric oxide in your muscles and also help to enhance focus and endurance and gain lean muscle mass.
It also includes ingredients like citrulline malate, beta-alanine, betaine, and taurine, which give you extra strength and energy to tolerate extra work.
Promising review: "STIM-FREE Pre-Workout is the perfect addition to my morning routine. I am able to flood my body with the right supplements for growth with no undesired affects–no jitters or head rush, and no bloating or unpleasant aftertaste. And Sour Grape tastes great, not too sweet."
Pros:
Great for high-intensity workouts
Increases mental focus & endurance
Clean ingredients list
Great range of flavors
Cons:
Flavor can be strong if not mixed with enough water
For a low price tag, this stim-free pre boasts some nitric oxide ingredients that are in higher quantity than other more expensive options. It includes 6 grams of citrulline should be adequate for boosting nitric oxide levels and providing increased blood flow and bigger pumps.
Nutricost Pre-SF features a transparent label. There are no proprietary blends. Plus, there are 30 servings per container.
Promising review: "I have been taking this pre-workout for over a year now and it makes my workout 100 times better. Highly recommend!!!!"
Pros:
15-16 grams of high-quality pre-workout formula in every serving
30 or 60 servings in every bottle (scoop included)
Great for extra energy and focus during workouts
Non-GMO, Gluten Free, 3rd Party Tested
Made in a GMP Compliant, FDA Registered Facility
Cons:
GENIUS PRE is a clinically dosed, caffeine-free, nootropics-based pre-workout. With efficacious doses of L-Citrulline Malate, Beta Alanine, and ATP all brought together, you're ensured rapid nitric oxide elevation that boosts your physical capabilities.
The ingredient nootropics are used to boost memory, focus, creativity, intelligence, and motivation which are really helpful to stick hard on your workout.
It also contains beta-alanine, l-arginine, taurine, l-tyrosine, and betaine anhydrous to combine all these ingredients its support to improves your heart health, liver health, and brain function, build proteins in your body promote, and improves athletic performance.
Promising review: "Gets you energized. No jitters but you do feel some tingles when it starts kicking in. I've tried a lot of different pre-workouts over the years and I think I'll be sticking with this one for the foreseeable future."
Pros:
Great ingredient combination
No artificial ingredients
No proprietary blends
Enhanced mental focus
Cons:
PUMP MODE's revolutionary nitric oxide boosting formula is based on breakthrough new ingredients to rapidly boost blood flow to the muscles exercised during training, increasing dilation and muscle hydration for your biggest pumps and vascularity every workout.
The only other ingredients in this product are betaine – a compound that is used for mental performance, but often with synergistic compounds like Huperzine or choline – and glycerol. These are both designed as mental performance aids, but this is specifically labeled a pump enhancer?!
It also includes both vitamin C and D which makes it different and better from other pre-workouts that are available on market. Vitamin C is a powerful antioxidant that is helpful for the repair and growth of tissues throughout your body, plus supports a healthy immune system. Vitamin D supports the production of the enzyme eNOS, which has a key role in Nitric Oxide production, plus Vitamin D supports muscle contractions, bone health, and immunity.
Promising review: "One hundred percent can feel a difference with this product. I use it with EVLUTION Shred pre work out and I have the motivation to def go the distance and then some while I'm lifting. I lift 5 days a week. I also pair this with Evlution's BCAAs. You definitely feel the extra energy!"
Pros:
This product is a nitric oxide powerhouse.
It may help with bone health due to the availability of both vitamins C and D.
It promotes muscle hydration.
This product promotes faster muscle healing.
It may boost immunity.
Cons:
You must become a member to get a discount.
---
How we pick these Best Stim-Free Pre-Workout Supplement
A stim-free pre-workout will have several tell-tale signs of a quality formulation. Ideally, you'll be looking for a stim-free pre that is built around nitric oxide booster ingredients like L-citrulline to get explosive muscle pumps.
Serving size and ingredients: When you looking for a new supplement, you should focus on what ingredients are in it. We pick products that have a 100% label transparency guarantee. This ensures that you know exactly what and how much of each ingredient is in each scoop.
Price: Consider your budget, overall value (cost for a number of ingredients and servings), and user feedback to determine what it is you may be looking for from a certain product.
Safety: A great way of making sure your pre-workout is safe for consumption is if it has been third-party tested. Why is this important? Third-party testing for pre-workout supplements is a fantastic way for these companies to have their product certified to be legitimate and safe.
Online rating: Reviews are critical because we aren't always going to believe what a supplement company tells us about its products as customers. Especially since every company believes that they have the best options out there.
Benefits of Caffeine-free Pre-Workout Supplements
Below are some benefits associated with a caffeine-free pre-workout:
No Stimulant Jitters Or Crashes
Increase Endurance & Stamina
Enhance Pumps & Blood Flow
Increase Hydration & Avoid Cramps
Muscle Fullness & Hardness
Increase Power Output
Support For Muscle Growth & Recovery
Side Effects
Any side effects experienced with a quality stim-free product should be very minor with tingling (normal due to beta-alanine), nausea, etc. being the most common. The worst effects tend to occur with caffeinated products that are taken in high amounts and when an individual has not built up a tolerance to caffeine.
But it's always a good idea to consult with a medical professional before trying any performance-aiding supplements, especially those under a physician's care.
Recommended Dosage
The only way to ensure you're taking the recommended dosage is to read and follow the product label/s due to the fact that the products on our list contain multiple ingredients.