Tongkat Ali is a tree that is found in many Southeast Asia countries, including Thailand and Malaysia.
The roots of the Tongkat Ali tree are beneficial and contain alkaloids and quassinoids that improve the health and well-being of those who consume it via tea, coffee, pill, or energy drinks.
Tongkat Ali supplements are the most popular form of use. It is said that Tongkat Ali can help improve a variety of health conditions affecting men.
This natural remedy is said to help with an array of issues like increasing testosterone levels and muscle mass, reducing anxiety, aging, boosting energy and performance, and more!
The Best Tongkat Ali Supplements
If you're looking for the best Tongkat Ali supplements to buy this year, then you've come to the right place. 
1. Double Wood Supplements LJ100 Tongkat Ali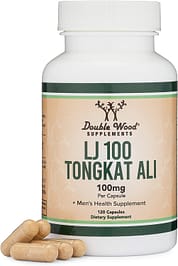 Double Wood Supplements' LJ100 Tongkat Ali extract contains the chemical compound Eurycomanones, which is responsible for the supplement's effects on increased libido, energy, stamina, and cortisol levels.
The LJ100 Extract is one of the most potent and well-researched Tongkat Ali Extracts on the market and is standardized to 22% bioactive Eurypeptides and 40% glycosaponins. This is much more potent than the average Tongkat Extract so a much lower dose is needed.
One container of LJ100 contains 120 veggie capsules and each capsule provides 100mg of Tongkat Ali extract.
Plus, Double Wood provides a COA for all of its supplements that guarantees what is stated on the bottle is actually in the supplement.
2. Nootropics Depot Tongkat Ali Extract Tablets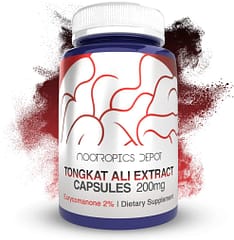 Nootropics Depot products are thoroughly lab tested to ensure that customers are receiving only the highest quality ingredients at optimal strength, potency, and purity.
The company takes pride in the amount of research put into every product by sourcing only the highest quality and innovative ingredients.
Nootropics Depot capsules contain 200mg of the bioactive ingredient Eurycomanone, which is believed to be responsible for the potential benefits of Tingkat Ali. And at 2%, this is a rather potent concentration.
Other Ingredients: Microcrystalline Cellulose (filler), Magnesium Stearate, Silicon Dioxide (flow agents), and Vegetable Cellulose (capsules).
3. VH Nutrition Tongkat Ali for Men
VH Nutrition's Longjack is a 1200mg dose of pure Longjack in each capsule and only uses gelatin capsules with no fillers or flow agents.
This product is all-natural, GRAS-approved, and does not contain any allergens. If you are looking for a simple, reputable, and strong Longjack supplement, then this is a great option for you.
It is typically paired with other adaptogenic herbs for maximum effect: Herbal ingredients such as Rhodiola Rosea, cordyceps, ashwagandha, Malaysian ginseng, maca, penawar pahit, asteracantha, and fadogia agrestis.
4. Horbaach Longjack Tongkat Ali
Horbaach Longjack Tongkat Ali is a powerful form of this exotic herb, containing the equivalent of 1,600 mg of Longjack Root per serving in quick-release capsules.
Horbaach Tongkat Ali formula is gluten-free and non-GMO with no artificial flavor, artificial sweetener, or preservatives. It's the perfect addition to an active lifestyle for men! It is also a perfect option for vegans, it's completely milk and lactose-free.
Other Ingredients: Rice Powder, Gelatin Capsule, Vegetable Magnesium Stearate, Silica.
5. Deal Supplement Longjack Tongkat Ali
Deal supplement Longjack Tongkat Ali root extract 300:1 complex offers an extra strength of 1000mg Tongkat-Ali plus 100mg of horny goat weed extract, which has a maximum supply of 90 days.
A natural plant-based herbal supplement, it may support exercise endurance & muscle mass, which may promote better workout achievements.
It is Gluten-free, dairy-free, non-GMO, with no preservatives, no tree nuts, no sugar, and 3rd party tested.
Benefits of Tongkat Ali
Tongkat Ali is a supplement that is commonly consumed by men although there are health benefits for women who use the product, too. What are the benefits associated with the use of the Tongkat Ali supplement?
Increase testosterone levels
Improve male fertility
May relieve stress
Decrease anxiety
Improve mood
Boost athletic performance and increase muscle mass
There is some evidence that tongkat ali may have various benefits for men, such as increasing testosterone levels, treating infertility, relieving stress, and potentially increasing muscle mass. However, more research is needed to confirm these potential effects.
Tongkat Ali Side effects
It's important to stick to the recommended dosage in order to reduce the chances of experiencing any negative side effects.
The most common side effects you can observe that sleeplessness, irritability, and feelings of restlessness.
Always speak with a medical professional or doctor before taking any supplements. Always read the product label for instructions and directions.
What to Look for in a Good Tongkat Ali Supplement
There are a few different forms of Tongkat Ali on the market, including Longjack Tongkat Ali and Tongkat Ali Extract. And we look forward to choosing the best of the best, here is a list of what we see as our picked best Tongkat Ali supplement brand.
i. Quality and Dosage
We deep look at the above Longjack Tongkat Ali Extract quality (pure and high label transparency) and dosage of the Tongkat Ali to sure that you choose a Longjack Tongkat Ali supplement that actually delivers an effective dose of the active ingredient.
ii. Ingredients
What are the ingredients inside the Tongkat Ali supplement you wish to purchase? Some products contain only Tongkat Ali, while some are mixed with other ingredients. Carefully read the label so you're aware of which type of product you're buying.
iii. Third-Party Testing
A great way of making sure your supplement is safe for consumption is if it has been third-party tested. Why is this important? Third-party testing for Tongkat Ali supplements is a fantastic way for these companies to have their product certified to be legitimate and safe.
iv. Price
What's the cost of the Tongkat Ali supplement? Nearly important as the brand is the supplement price. This is one time when you want to consider quality over price because purchasing a cheap supplement might fail to provide the results that you're looking for. Typically, expect to spend $25 -up for a high-quality Tongkat Ali supplement.
How to take Tongkat Ali
Tongkat Ali is available in several forms, although extracts are most popular for consumption. Both a pill and powder are available. The method of use depends upon which form of Tongkat Ali you purchase. Most studies indicate using no more than 200 mg of the supplement per day.
The correct amount of the supplement to use also varies according to your age, weight, and the intended purpose of use. To ensure that you are taking the right amounts of Tongkat Ali, read the label carefully. The label contains all the information needed to appropriately, and safely, use the supplement.
How long before Tongkat Ali starts to work
The effects of Tongkat Ali on testosterone levels are something that varies from person to person, so unfortunately, there is no set timeline.
However, studies that have been conducted show that it usually takes around 4 weeks for people to start seeing noticeable changes, and the full effects of the supplement are usually seen after 12 weeks.
What Type of Tongkat Ali Is Best?
Yellow Tongkat Ali is the best and most popular type of Tongkat Ali since it has the least amount of negative side effects.
The Bottom Line
We hope you learned something from this review of the best Tongkat Ali products, and that you found one of the quality picks from our list helpful.
You may not have tried this supplement before, but research suggests that it could have health and performance benefits. So whether you're looking for a natural destresser or something to help with energy and weight loss, Tongkat Ali could make a good addition to your supplement regime.
Related- 5 Best Ashwagandha Supplements in 2023, According to Dietitation.