After an intense training session, your body will need protein, amino acids, carbohydrates, and other essential nutrients to repair muscles and start the recovery process.
One of the best ways to achieve this is to use a post-workout supplement. This way, you can enjoy a cost-effective and convenient way of sourcing all the nutrients you need in a single great-tasting product.
There are thousands of post-workout pills, powders, and shakes on the market today but many fail to live up to their expectations.
Best Post-Workout Supplement Picks
Below are five post-workout supplements that have produced exceptional results for athletes worldwide.
1. Formula XII Intra and Post-Workout Supplement Powder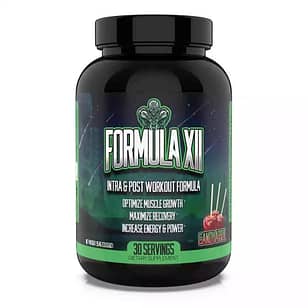 Formula XII by Huge Supplement is an incomparable all-in-one Intra & post-workout supplement that contains every essential ingredient and nutrient for optimal performance, recovery, and muscle growth.
Read- Top 5 Intra Workout Supplements for the Gym.
This powerful formula contains 12 potent, high-quality, and scientifically dosed ingredients totaling 31 grams per scoop – giving you everything you need to maximize performance and aid in recovery.
In Formula XII you're going to find ingredients such as-
Betaine Anhydrous
Creatine Monohydrate
Cluster Dextrin
L-Ornithine
It contains the most important post-workout ingredient that is Cluster Dextrin, Cluster Dextrin has been shown to be an effective form of carbohydrate for replenishing glycogen stores lost during intense exercise, and research suggests that it may do so faster than other types of carbohydrates.
The container also has betaine and l-ornithine, which may help improve athletic performance and endurance.
If you want the best supplement for muscle recovery faster after a workout then go ahead and purchase it. It includes a complete package of amino acids and carbohydrates and even electrolytes ingredients.
2. Old School Vintage Burst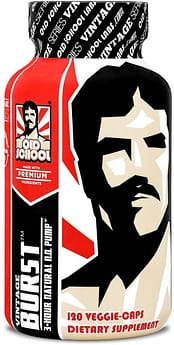 The advanced formula found in Vintage Burst nitrous oxide supplements for men can allow you to achieve a massive pump with just a single dose.
Vintage Build is a 3-in-1 post-workout recovery drink that speeds up recovery, reduces soreness, and amplifies gains in lean muscle mass.
The box has 30 servings of scoop and each scoop provides three essential nutrients: Branched Chain Amino Acids (BCAAs), Creatine Monohydrate, and L-Glutamine.
These ingredients are able to push you harder than your last workout developing bigger and thicker muscle fibers. Creatine Monohydrate in Vintage Build post-workout powder enhances strength and muscle endurance.
Read- Top 5 Best Nitric Oxide Supplements in 2023.
3. Growth Surge Creatine Post Workout
Growth Surge post-workout stacks effective ingredients to maximize post workout recovery and muscle gains. Growth Surge post-workout recovery drink helps fuel lean muscle growth while increasing strength and endurance in the gym.
The Growth Surge Creatine Post Workout by Jacked Factory container contains 30 servings of scoop and each scoop provides 10.4 g of Creatine monohydrate, betaine anhydrous, L-carnitine L-tartrate, and BioPerine ingredients.
All of Jacked Factory's products are manufactured in a state-of-the-art facility that is cGMP certified. This guarantees that users are getting nothing but the purest, safest, and highest-quality supplements on the market.
4. BSN AMINO X
High-quality amino acid supplements can sometimes be difficult to come by because many of them simply do not contain enough to effectively stimulate muscle protein synthesis; this won't be a concern with AMINOX by BSN.
Featuring a 10-gram blend of BCAAs and the essential amino acids L-Alanine, Taurine, and L-Citrulline, AMINOx will help your body recover from today's workout and prepare for tomorrow's.
This is the best post workout supplement for soreness, the ingredients in AMINOX BSN may help with recovery and alleviate soreness.
The container contains 70 servings of scoop and each scoop provides the above ingredients plus vitamin d and sodium.
5. Legion Recharge Post Workout Supplement
Legion recharge is a surprisingly simplistic sports drink. Among the active ingredients, all it delivers is creatine, L-carnitine, and banaba extract.
Legion recharge post workout container contains 60 servings of scoop and each scoop provides you with 9 grams of post workout powder with 3 different active ingredients.
Creatine – 5g
L-Carnitine L-Tatrate – 2.1g
Corosolic Acid – 10.5mg
Legion Recharge post-workout supplement is best for those who looking to gain muscle. In brief, this is the best post workout supplement for muscle growth.
With this post workout recovery drink, you're going to gain more muscle and strength after every workout thanks to clinically effective doses of creatine powder and L carnitine L tartrate.
How to Pick a Good Post-Workout Supplement
There are thousands of post-workout pills, powders, and shakes on the market today but many fail to live up to their expectations. Listed above are five post-workout supplements that have produced exceptional results for athletes across the world.
Things to Look for:
Price/Value – Be on the look out for supplements that are in a regular price range. Most post-workout products cost between $30-60, you don't need to spend more than that.
Company Reputation – The best post workout products are going to come from the best supplement companies. Make sure the company you are buying from is a trusted source in the industry. Also make sure the company is easy to get a hold of for customer support.
Packaging – Good packaging and design are usually signs that a company has actually put thought and invested money into their product.
Online User Reviews – The best way to find out about products these days is to head to the internet (and here you are!). Odds are someone has bought the product you are looking at and sometimes they'll leave a review. Find products that have high user reviews and very limited complaints.
Read Blogs/Forums – Head over to some fitness and health forums and blogs that go over supplements and fitness products.
There can be a great deal of variation when it comes to the quality of post-workout supplements which is why we have gathered together the top 5 products in this field.
We have ranked the best post-workouts based on factors such as user reviews, quality, diversity of ingredients, and overall value for money so that you can rest assured you are supplementing your hard work in the gym with a product that will help to take you to the next level.
Benefits of Post Workout
Some benefits of post-workout include:
Improving muscle recovery and reducing muscle soreness
Replenishing glycogen stores, which can improve energy levels and delay fatigue
Supporting muscle growth and repair by providing the body with essential nutrients
Reducing inflammation and oxidative stress
Supporting the immune system by increasing the number of white blood cells
FAQs
Who Should Use a Post Workout Supplement?
Anyone who is working out HARD would definitely benefit from investing in a recovery post-workout supplement. This can range from athletes to bodybuilders or just people who are serious about fitness and exercise.
Not only will you provide your body with quick nutrition, but it will also allow you to recover quickly, which in turn can get you to the gym more often. Feeling sore is a good feeling in the sense that you know you got a hard workout in, but it sucks when you're trying to follow a workout routine but are too sore to make it to the gym the next day.
When to take a post workout supplement
It is generally recommended to take a post-workout supplement within 30 minutes to 2 hours after exercise. This time frame is known as the "anabolic window" and it is when your muscles are most receptive to nutrients and ready to repair and rebuild. Taking a supplement during this window can help maximize muscle recovery and growth.