L-citrulline is an amino acid that the kidneys convert into L-arginine and nitric oxide. L-citrulline and citrulline malate supplements can benefit your workout by increasing nitrous oxide production in the body, which then leads to improved blood flow and shows greater pump to muscle.
Additionally, these supplements provide the strength and endurance needed for more strenuous workouts. They can be taken before a workout, and they also offer benefits for heart health, sexual performance, and immunity.
Citrulline supplements are taken for many reasons. Some people take them to have more endurance for their workouts, some take them to lower their blood pressure, and some take them to ease symptoms of erectile dysfunction.
Top 5 Highest Reviewed Citrulline Supplements
If you're looking for the best citrulline supplements to buy this year, then you've come to the right place. 
1. Kaged Muscle Premium L-Citrulline Powder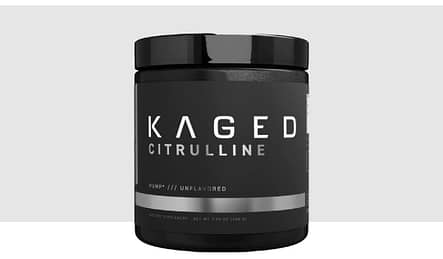 KAGED MUSCLE Citrulline has been voted the best citrulline supplement of the year! Its high dose of citrulline is very effective and offers amazing value for money – much more than any other supplement on the market.
Kaged Muscle Citrulline supplement is one of the cleanest and purest on the market, each batch is third-party tested for banned substances.
The Kaged l-citrulline powder box contains 100 scoops of serving and each scoop provides 2g of l-citrulline.
If you are lookout for a stand-alone citrulline supplement without any other additional ingredients then KAGED MUSCLE Citrulline is almost definitely the best option due to its potency and cost-effectiveness.
Direction: As a dietary supplement, mix 1 scoop in your favorite beverage or protein shake twice daily.
2. Huge Supplements Wrecked Pre-workout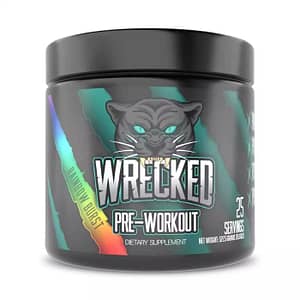 Huge Supplements Wrecked has 18 potent and high-quality ingredients that can work synergistically to fuel your workouts.
This box contains 20 servings of scoops and each scoop includes 9,000mg of citrulline malate, 3,200mg of beta-alanine, 350mg of caffeine, and 2,000mg of betaine anhydrous – all of which are above the market average.
If that wasn't enough, Wrecked also contains 1,000mg of tyrosine to help you stay focused during your workout and 100mg of Himalayan pink sea salt for a potential boost in hydration.
Direction: Take one (1) scoop of Wrecked roughly 20 to 30 minutes before working out.
3. Swolverine Citrulline Malate
This product contains a simple ingredient list and a high concentration of malic acid, which makes it easy to absorb and could potentially improve your stamina.
Swolverine Citrulline Malate supplement contains a very potent dosage of citrulline malate – 5,000mg per serving. As far as ingredients go, this supplement is pretty straightforward. The complete box provides 60 scoops of serving.
Swolverine is extraordinarily inexpensive and unflavored, so it won't change the taste of the beverage you add it to.
Swolverine's Citrulline Malate is Non-GMO, Best-For-Vegan, Gluten Free, Certified cGMP and Made in the USA.
4. Nutricost L-Citrulline Malate
If you're looking for an affordable and effective citrulline supplement, Nutricost's pills are a great option. The citrulline is non-GMO, gluten-free, and made in an FDA-registered facility. Plus, it's third-party tested to ensure purity and label accuracy.
One box of Nutricost L-Citrulline Malate contains 86 scoops of servings and each scoop provides 3g of citrulline.
Ingredients: L-Citrulline Malate (2:1), natural flavors, sucralose, calcium silicate, silicon dioxide, blue spirulina (for color).
Direction: As a dietary supplement, mix 1 scoop with 6-10 ounces of water. Consume before and during exercise. As a pre-workout booster, mix 1-3 scoops with 6-10 ounces of water. Consume 15-30 minutes before exercise.
5. PRIMAFORCE Citrulline Malate
PRIMAFORCE Citrulline Malate is one of the purest and highest-quality citrulline supplements that money can buy, containing nothing but pure unadulterated citrulline malate powder.
Contains nothing but 100% pure Citrulline Malate powder
Available in packages containing 500 g of serving powder
Each serving provides 2g of L-Citrulline Malate
Intended to support performance and recovery
Acts as a precursor to nitric oxide production
Available as an inexpensive unflavored powder
Lab-tested for potency and purity
PRIMAFORCE Citrulline Malate is a fantastic cost-effective alternative to some of the more expensive flavored and sweetened citrulline supplements on the market.
How We Decided Our Picks
There are a few different forms of citrulline on the market, including L-Citrulline and Citrulline Malate. And we look forward to choosing the best of the best, here is a list of what we see as our picked best l-citrulline supplement brand.
i. Quality and Dosage
We deep look at the above l-citrulline quality (pure and high label transparency) and dosage of the l-carnitine to sure that you choose a citrulline supplement that actually delivers an effective dose of the active ingredient.
The effective dose of Citrulline Malate appears to be 2 – 6 g, depending on your body weight.
ii. Third-Party Testing
A great way of making sure your supplement is safe for consumption is if it has been third-party tested. Why is this important? Third-party testing for l-citrulline supplements is a fantastic way for these companies to certify their product as legitimate and safe.
iii. Price and Feedback
Consider your budget, overall value (cost for a number of ingredients and servings), and user feedback to determine what it is you may be looking for from a specific product.
Reviews are critical because we aren't always going to believe what a supplement company tells us about its products as customers. Especially since every company believes that they have the best options out there.
What actually l-citrulline is?
Citrulline occurs naturally within the human body and is created as a by-product when nitric oxide is produced from the amino acid arginine.
For this reason, citrulline acts essentially as a precursor to nitric oxide production, promoting vasodilation and helping to stimulate the circulatory system.
There are some who argue that citrulline actually promotes greater arginine production in the body than arginine supplements themselves.
This, in combination with the increased production of nitric oxide, helps to improve muscle nitrogen retention and improve the overall rate of muscle protein synthesis.
Some natural sources of citrulline are fruits, especially watermelon.
Read- 5 Best Nitric Oxide Supplements in 2023.
L-Citrulline Benefits
Citrulline is a proven product that offers a variety of different benefits both in and out of the weight room, so athletes, bodybuilders, and even your average weekend warrior would stand to benefit from using it. Below are some benefits associated with consuming l-citrulline supplement orally:-
Boosts nitric oxide production in the body
Boost vascularity that provides a great pump
Remove excess levels of ammonia from fatigued muscles
Ease symptoms of mild-to-moderate erectile dysfunction (ED)
Enhancing the overall rate of recovery from training
Increased production of ATP in your cells
L-Citrulline Side Effects
Citrulline is a supplement that has been taken orally for many years without any reports of serious safety concerns. Although citrulline side effects are not common, there have been reports of mild symptoms such as:
Nausea
Indigestion
Diarrhea
How to take l citrulline
Citrulline is most commonly used as a pre-workout or intra-workout supplement in order to stimulate blood flow and prepare your body for intense training.
It can also be used away from your workouts in a similar manner to supplements like creatine. This will help to speed up the rate of recovery so that you can hit your trashed muscles and trigger new growth even sooner.
Because of its vasodilatory effects, citrulline should be avoided by anyone who has ever suffered a heart attack or other form of cardiovascular disease.
What's more, citrulline should not be used by pregnant or breastfeeding women, nor should it be used by individuals under the age of 18.
Consult your doctor or physician prior to using citrulline if you have any pre-existing medical conditions or if you are currently using prescription medication.
How much citrulline to take
To supplement L-citrulline for circulatory health, take 2,000 mg of citrulline three times a day with meals. For enhanced sports performance, take 6,000 – 8,000 mg of citrulline malate about an hour before exercise.
Summary: Always tell your doctor about any supplements you are taking. That way, your doctor can check on any potential side effects or interactions with any medications.
Is L-Citrulline Supplement good for the pump?
Yes it is, citrulline supplements promote nitric oxide or arginine to the body directly to indirectly. These ingredients boost vascularity which provides a great pump to the muscle.
Read- 10 best l-arginine supplement
Final Word
When considering which citrulline supplement to use it is well worth taking a look at the form of citrulline provided.
Citrulline Malate is typically used in a 1:1 ratio, which means that for every 3 g of ingredient you are receiving a total of 1.5 g of citrulline and 1.5 g of malic acid.
You should take this into consideration when choosing your citrulline supplement because by the time you use enough to receive an effective dose, you may find yourself receiving fewer actual servings than are reported on the product label.
L-Citrulline is an arguably superior choice due to its 100% citrulline content, and this is another reason that KAGED MUSCLE Citrulline is the top citrulline supplement this year.