If you're suffering from chronic hand pain, consider making massage a regular part of your self-care routine.
Research has shown that a combination of hand massage from a therapist and self-hand massage is likely to be effective in easing hand pain caused by arthritis and other conditions.
A study conducted at the Touch Research Institutes at the University of Miami School of Medicine analyzed adults who received a massage on their affected hand(s) by a therapist once a week and also performed self-hand massage daily.
Prescription drugs can ease pain, but so can massage. It boosts circulation, soothes muscles, and offers a more holistic approach — and you don't have to even visit a professional to get the benefits.
Quick links about the best hand massager for arthritis.
The 3 best hand massagers for arthritis are heated, hit acupressure points, vibrate, and feel simply luxurious.
Best cordless acupressure hand massager for arthritis
Lunix LX3 Cordless Electric acupressure is the best hand massager to relieve pain from fingers, palms, elbows, or feet, or special devices to apply pressure to acupoints on the body's meridians[1].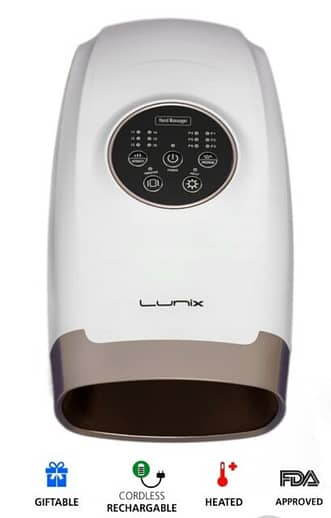 Lunix LX3 pressure point therapy massager provides an intense massage and is 100% adjustable to your own needs. The LX3 hand massager offers 6 levels of massage and intensity, combines compression, heat (it provides a gentle warmth, around 104°F – enough to relax and enhance the benefits of the massage), and vibration to offer you the closest feeling to a real hand massage.
The Lunix LX3 is cordless, lightweight, and rechargeable and comes in two colors: black and white.
Features of this hand massager include:
six levels of massage and intensity
a soft interior cushion
portability
acupressure therapy
heat goes to 104 degrees
including vibrator
The device is based on acupressure therapy, and the company states that it can reach its optimal temperature in 8 minutes.
This rechargeable battery hand massager is the best overall hand massager, the device works very smoothly and the feature of this acupressure device is better than other which help blood circulation and reduce numbness well.
Customer reviews: 4.3 stars out of over 4,545 Amazon reviews.
Best finger-targeting hand massager for arthritis
Comfier Hand Palm Massager is built-in pressure on all sides of your hands and applies 3 pressure Modes & 3 levels of intensity. The massager-designed modes help to rhythmically pressurize the whole hand starting from the wrist to the palms, fingers, and thumb.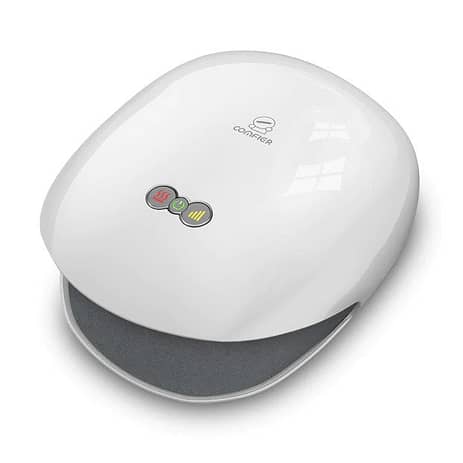 Comfier Electric Hand massagers are specially designed to adopt air pressure and compress hot air to pamper every part of your hand and work on the fingers and knuckles to ensure total relaxation. The massager helps get rid of any knots and effectively relieves carpal tunnel syndrome and eases finger pains.
Features of this hand massager include:
Wireless and portable
light-weight and easy to use
air compression massage
soothing heat
personalize your message with different intensity levels.
built-in palm pressure point beads
an automatic shut-off after 15 minutes
Comfier cordless massager soothes the hands and fingers from the top to the bottom for that relaxing feeling.
Its built-in Lithium Ion battery never needs to be replaced and is rechargeable using a provided USB cord. This hand massager machine is lightweight & portable. Convenient to use at home, in the office, or on the go.
Best for battery life vibrating hand massager
The Purology LXB hand massager, in elegant black, works by applying compression to multiple pressure points throughout your wrist, hand, fingers, and palm to improve circulation and reduce pain.
The company claims this model is a universal size and can massage the hand, wrist, fingers, and palm.
Moreover, the massager is cordless, portable, and rechargeable, with a charging time of 3–5 hours and a charge lasting a few days. Recommended use is one-two 15-minute sessions per day.
The massager also includes a set of three hand therapy balls of different stiffness.
The massager has the following features:
six modes and intensity options
an optional heat function
two vibration levels
a soft cloth interior for comfort
a pre-set 15-minute treatment
a 1-year warranty
The Purology LXB hand massager relieves hand pain over time by applying compression to various pressure points on your hand while simultaneously warming and swaying across those pressure points. Just see the dots on your hands which indicate contact with your pressure points.
How we choose
Arrdos Team chooses products that meet the following criteria:
Price: Arrdos chooses products suitable for a variety of budgets.
Features: Arrdos selects products with useful features, such as an automatic shut-off, an overheating protection mechanism, or adjustable straps.
Suitability: Arrdos selects products to suit a range of needs, such as portability and extra temperature functions.
What causes arthritis?
Arthritis is a condition that refers to the swelling of joints and literally means joint inflammation. According to the CDC, 58 million have the condition. Osteoarthritis and rheumatoid arthritis are the most common forms.
Osteoarthritis happens from repetitive movements or carrying excessive body weight. The cartilage between the joints breaks down, forcing joints to rub together and creating an unpleasant feeling. In contrast, rheumatoid arthritis is an autoimmune disorder. It occurs when enzymes target healthy tissue, as well as the links between joints. It's commonly found in fingers, wrists, and knees. Systemic symptoms, such as fatigue, anemia, eye inflammation, fever, and weight loss may also occur.
How do hand massagers work?
A hand massage can do more than just reduce pain and increase flexibility – it can be used as a stress reliever or anxiety management tool, too.
Hand massagers usually have a design that lets you place your hand inside the device, which then creates vibrations that help increase blood flow to different areas of your hand.
Hand massagers also provide compression, kneading, and heat, which can all make your hands feel more relaxed.
The massager actually uses vibrations to heat up your muscle tissue and make the blood flow better in that area. The vibrations hit the soft tissue over and over, which makes the blood flow to that area better.
The gentle pressure from the massager can make any tight muscle tissue relax or make scar-like tissue called adhesions softer. This helps the muscle fibers get longer.
Hand massagers are designed to provide acupressure and vibration therapy with heat in order to relax the fingers, palms, and improve circulation of blood. The circulation of blood and vibration help to relax the tissues and relieve pain.
Alternatives to hand massagers
Professional massage. If you need something more hardcore than self-massage (like if your hand arthritis makes self-massage painful or impossible), consider getting a professional massage. There are massage therapists who specialize in chronic pain, arthritis, and trigger point work. Ask your friends, doctor, or physical therapist for recommendations.
Hand exercises. Hand exercises can help improve hand muscle strength, improve hand function, and increase flexibility.
Heat. Heat therapy is also recommended by the Arthritis Foundation. Heat can ease stiff joints, relieve muscle aches, and increase circulation. Several of the massager's picks above include a heat feature.
Ice. Cold therapy is a common way to reduce symptoms.
Benefits of Electric Hand Massager
A hand massage has the potential to improve your health and well-being in a number of ways. According to a 2011 study, the benefits of a hand massage may include:
reduced hand pain
less anxiety
better mood
improved sleep
greater grip strength
pain syndromes, including arthritis, carpal tunnel syndrome, and fibromyalgia
high blood pressure
According to a 2018 study, getting a regular massage may also help lower your blood pressure. This study, however, did not focus specifically on hand massages.
Another study published in 2015 involved nurses working in intensive care units. It did not focus specifically on hand massages but found that a twice-weekly general massage significantly reduced their stress levels.
Are hand massage machines good for you?
Yes, it is, vibrating hand massagers machine is a beneficial tool for managing hand arthritis. It generates acupressure that helps to promote blood circulation that manages your hand stiffness and pain.
There is also scientific evidence that has shown that a regular hand massage may help ease pain, increase hand strength, and reduce feelings of stress and anxiety.
Tips for Self-Hand Massage
While at home, there are a number of techniques that allow you to practice a hand massage on yourself in order to gain relief from arthritis pain.
One method of self-hand massage is called milking. You do this by gripping your fingers on the top of your forearm with your thumb on the underside. Applying moderate pressure, move your massaging hand from your wrist to your elbow and back again, slightly pulling your flesh between them. This technique is said to help with the pain and stiffness associated with arthritis by promoting blood flow and helping to reduce inflammation.
This method can also be used on the hand by placing the thumb on the top of your hand at your wrist and your index finger at the bottom. Just like the arm, apply moderate pressure and pull to the end of each finger and your palm.
FAQs
What are the best hand massagers
There are many-many-many hand massagers available in the market and everyone gives positive feedback to their product, this is best; that is best; but we personally love Lunix Lx3 hand massager. It features we listed are really well played and personally talks I also use it every day.
The others above are listed in the top 3 hand massagers based on prices, customer feedback, deep research, and their features. You can buy one of them without any hesitation; all of them work well.
How do hand massagers work
Hand massagers are designed to provide acupressure and vibration therapy with heat in order to relax the fingers, and palms, and improve the circulation of blood. The circulation of blood and vibration help to relax the tissues and relieve pain.
Where to buy hand massagers
You can purchase it anywhere, it depends on you. If you feel safe you can buy hand massagers online through amazon, Walmart, and other online stores; it is easily available online.
Rather you can also find it in offline stores.
Bottom Line
If you're struggling with arthritis in your hands, know that you're not alone. Many people suffer from this painful condition, but there are things you can do to ease your symptoms. Be patient as you explore all the different options for managing your pain and stiffness. Self-massage can be a helpful tool, but it's not the only solution. Don't be afraid to try different techniques until you find something that works for you.
Think of self-massage as a tool for your arthritis relief toolkit. The more techniques and products you try, the more knowledge you'll have about the best solutions for you. Good luck, and may your pain relief toolkit runneth over.
Related: