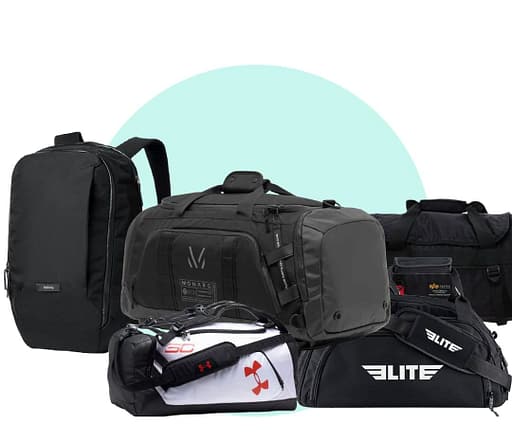 The best gym bags are built for more than just the gym. Sure, they come with the product specs you'd expect from a bag designed to store your sweaty workout gear—water-resistant fabrics, adjustable shoulder straps, ample shoe compartments—but these aren't bags made exclusively for exercising.
With a wide range of gym bags being continuously released by the old-school sports and outdoor brands like Nike and The North Face and fresh startups experimenting with innovative features, there is hardly a shortage of good-quality gym packs.
The question is – which one is worth the price tag?
Before going for the back, consider what kind of bag you'll need. :
The settings in which you will be carrying it (swimming pool, weight lifting section of the gym, etc.);
The material the gym bag is built from (Polyester, Nylon, Vinyl, or Leather);
The amount of storage space you are comfortable with;
The functionality of the bag (shoe compartment, anti-theft pockets adjustable straps);
The maintenance it requires.
All of this is covered in our extensive guide, but you can also just look at our product recommendations.
---
Best Designers Gym Bags for Boys
---
1. Monarc: Overall best men's gym bag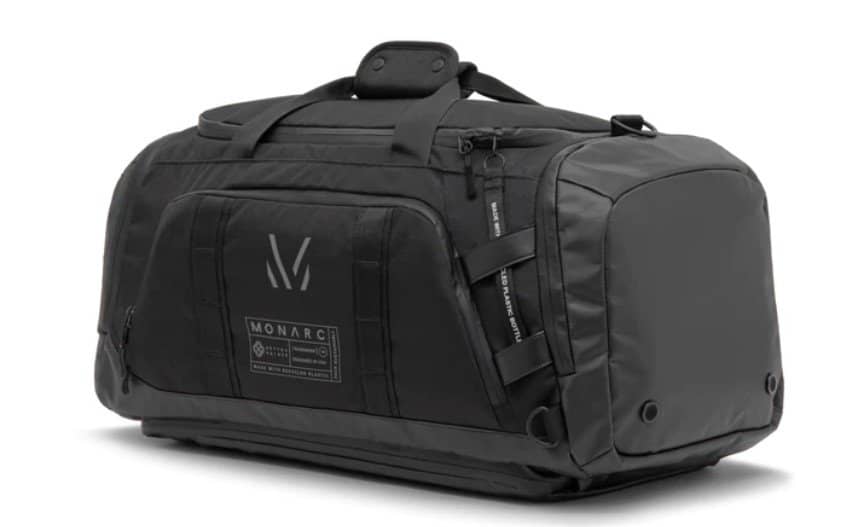 Key Features
Water resistance fabric
Dimensions: 15" x 12" x 8"
Locking Zippers
40L packable space.
Dual function backpack and duffel
Removable shoe compartment
Stylish design, super functional, and best of all, the Monarc Settra Duffel Backpack is made with 50 recycled plastic bottles per bag. This duffle gym bag can convert into a backpack if you prefer to carry it on your back. It's fully water-resistant and includes a dedicated ​​shoe compartment if you prefer to store your trainers separately.
The Monarc Settra wins the best overall men's gym bag thanks to its functional design and versatility. The bag is TSA-approved, so you can use it as a carry-on duffle bag when traveling if you want to. There's a dedicated 17" laptop pocket and extra padding and anti-static materials so you can go straight from the gym to the office if you want.
Monarc also offers special bundle discounts if you want to use custom-made compression packs, laundry bags, and pouches to keep your daily essentials tidily organized.
2. Elite Sports Boxing Gym Duffle Bag
Key Features
Ease to carry, durability, comfort, and lightweight
Extra rugged water-repellent Cordura fabric
Dedicated shoe pocket
55L Packable space
Ventilation pocket for wet clothes.
Lost in the sea of gym bags that seem to be identical at a first glance? Elite Sports Boxing Gym Bag isn't like every other gym bag – it's lightweight, comfortable, and made with Cordura fabric.
The stylish look and durable function – duffle and backpack make this bag the most purchased gym bag in 2022. This duffle and backpack gym bag also has a number of pockets that separate your dirty or wet gear through electronics and other essential things. Also, have a dedicated shoe pocket, and water bottle pocket, along with pockets for other small items.
Take advantage of its spacious main compartment and keep your dirty and damp shoes away from other items. Use this medium-sized Adidas duffle bag to stay organized and have it all within reach. It's high quality and made to last for a very long time- a lifetime!
3. Adidas Defender 4 Medium Duffel Bag
Key Features
Lifetime warranty – built to last
Durable fabric with a water-resistant base material
Adjustable, detachable shoulder strap with movable pad
Multiple zippered pockets give you plenty of storage space
Super lightweight.
Want an Adidas duffle bag to carry all your training gear? One that both looks good at the side of the court and holds what you need? The Defender 4 is a popular gym bag, the 4th edition from Adidas that scores nicely on a lot of levels.
Move from the street to the gym with a modern look. this newly updated duffel bag features a water-resistant base for all-day durability while you're on the go. zip end pockets and a small front pocket give you easy access to your personal essentials.
4. Under Armour Undeniable 4.0 Small Duffle Bag
Key Features
Water-resistance fabric
Lightweight and built with incredibly durable materials
Separate ventilation shoe apartment
58L packable space
Dual water bottle\ slip pocket
Movable heat gear shoulder straps.
The Under Armour Undeniable 4.0 Gym Bag is an established option for multi-sport athletes. So established that it's the 4th iteration because of popular demand. This is a fairly feature-filled bag that costs a little more because of its popularity, but also because of its quality.
Gym bags have certain design features that appeal to different people. The Undeniable 4.0 is well suited for basketball, soccer, and even racket sports. It's a sports bag for everyday training too and, increasingly, a duffel bag option for weekend trips.
The construction can handle your training essentials without ripping, whether you're into lifting, soccer, boxing, or any active lifestyle. Paired with UA's Storm technology, the high water resistance will keep your items dry under showers.
After some rigorous testing, here's what Undeniable 4.0 Gym Bag has in store for you.
5. Bellroy Transit: Best modern design gym bag
Key Features
Water-resistant woven fabric
Backed by our 3-year warranty
Large internal stretch pocket holds gym shoes and more
Separate laptop section
Light-weight
38L Capacity.
The modern gym-goer needs an equally future-focused backpack to help them to keep their eye on the finish line. Bellroy's Transit Work pack is a backpack that perfectly nails 21st-century cool.
Featuring a front zipped pocket and internal zipped pocket, as well as two pouch pockets, the bag has plenty of space for all your workout gear, as well as for a dopp kit and your laptop. It also comes with a dedicated soft-lined sunglasses pouch up top, out of the crush zone.
The main compartment can be opened fully to allow easy access to your gym clothes and gears. You'll find inside additional meshed pockets to keep your stuff organised. The backpack is available in three different sizes, so you can pick the one most convenient to your training routine.
The Transit Workpack is made from premium, environmentally certified leather, and durable, water-resistant woven fabric, made from recycled materials. So you'll feel good about your purchase too.
Best of all, this backpack can double as your carry-on bag when travelling and it wouldn't look out of place at social gatherings either. The perfect day-to-night backpack.
6. Canway Sports Gym Bag
Key Features
Too much lightweight duffel gym bag.
A water-proof leather base.
Eight separate pockets in addition to the main compartment.
Separate shoe apartments and also for wet clothes.
45L packable space.
Zipper locker also included.
Lost in the sea of gym bags that seem to be identical at a first glance? Canway Sports Gym Bag isn't like every other gym bag — it's a waterproof duffel style bag with a simple yet practical design.
Over 6,000 Amazon customer ratings don't lie. People from across the globe keep purchasing this bag and end up using it beyond the walls of the gym. Whether it's a weekend getaway or a business trip to a nearby city, the Canway is designed for multiple purposes.
It's packed with features like multiple pockets, a durable waterproof base, and hooks that make it a convenient bag to carry.
There aren't many compromises to make despite the gym bag having a small price tag either. If you're thinking about buying it, you need to know what they are. Keep on reading this review for all the details about Canway Sports Gym Bag.
7. All Soul Great Inspirational Sports Duffel Gym Bag
Key Features
Superior Oxford quality material.
Water and UV resistanst fabric
Separate ventilated shoe compartment
Lightweight
Cheapest through its quality.
Through price tag this bag is one of my favorite gym bags because of the superior material quality and large space that easily carries your day outfit, shoes, toiletries, hairbrush/dryer, headphones, phone, shampoo/conditioner, towel, and more!
Having a number of separate compartments that ensures your sneakers, electronic items, and dirty clothes are separated from your day outfit or casual evening change of clothes.
The material of the fabric is very tough just like you, with water and UV-resistant oxford fabric, padded shoulder strap, reinforced metal hardware, and scuff-resistant bottom, the bag will last as long as you do.
Also, in this duffel gym bag, print inspirational quotes to help motivate you and those around you. Overall, this is the best gym bag that every gym individual wants.
8. Under Armour SC30 Storm Contain Duffle
Key Features
Highly water-resistance fabric
2 large vented end pocket
Adjustable, movable, HeatGear shoulder straps
Works as both a backpack & a duffel
Lightweight
35L packable space.
Under Armour is known for its high-quality sports apparel and equipment, which already puts it in an advantageous position. But this is not just a hypothesis – their SC30 Storm bag, a part of the Stephen Curry's signature collection, is the proof.
Made from 100% Polyester, the gym bag features a patented UA technology that makes it a highly water-resistant accessory. With the padded shoulder strap and the top handle and an abrasion-resistant bottom panel, it is guaranteed to last you a long time.
The main compartment of the bag is super large, which isn't obvious from the first look. It fits up to 48 liters of stuff that can be accessed via the U-shaped top zipper. The rugged zipper system locks make it secure to use in large crowds where the possibility of theft is high.
Stuff your sneakers in the bag's shoe compartment, place a drink in the water bottle pocket, and get ready to be out of the door in no time.
9. PLUS33 JNR Kong Duffel Gym Bag
Key Features
High-quality and functional gym bag
Lightweight
5 accessory pocket
Dual bottle pocket
Internal shoe compartment
33L packable space
Non-slip hypalon grip shoulder strap.
Crossfit enthusiasts will get the most use out of this King Kong's heavy-duty gym bag that is as bulletproof as it gets.
Crafted from the sturdy, military-like 1000-Denier Nylon, it can be used solely as a wet towels' carrier – that's how waterproof it is. No matter how much gear you will fill it up with, the chances of it tearing apart are extremely low. The highly abrasion-resistant material makes it almost impossible for the bag to rip apart.
The construction of the pack is mighty too – there are tons of pockets of all shapes and sizes for storage of all types of essentials and non-essentials. You have a separate pocket for storing your shoes, side mesh pockets for your water bottle and snacks, and a couple of more exterior and interior compartments for the gym equipment.
With the ultra-tough YKK zippers, your stuff is always safe and sound.
10. Nike Brasilia: Best Training Medium Duffle Bag
Key Features
High-quality and functional gym bag
Lightweight
Separate wet and dry clothing compartment
Separate shoe compartment
35L packable space
One of the top-rated men's gym bags for value is Nike's Brasilia Duffle Bag. This champion of the workout hold-alls outperforms all other gym bags thanks to its ample size, durability, and carry comfort. 
Available in medium and large sizes, this gym bag has space for all your gear, whether that's a swimsuit and goggles or an extensive toiletries selection for freshening up after an intense gym session.
It's made of machine-washable and durable polyester with a weather-resistant finish that stops both wind and rain. So even if the weather lets you down, this bag won't.
On the outside, you've got several zippered pockets for quick access to essentials while inside is a large compartment for your clothes, gears, and shoes as well as two other pockets for additional organisation. As every all-star athlete knows, you'll get nowhere without organisation. The bag is available in a range of colors, including black, navy, and grey.
This men's workout bag ticks all the boxes for a great workout companion, lessening the load so you can stay active, healthy, and happy. It will have you waltzing into the 5 am workout class like it's the easiest thing in the world.
How we tested the best gym bags?
To find the best gym bags on the market, we put them through their paces going back and forth to the gym. We'd carry different equipment, wet kit, shoes, and a change of clothes to see how each bag performed, and how easy it was to use on the go. We'd look for extras such as waterproof compartments for sweaty kit, tech compartments, pockets to keep us organized, and straps to hold yoga mats, water bottles, and more.